I haven't posted awards in a while, so I guess I should be doing it before 2010 hehe.

Thanks to everyone who shared the love with me, I love ya right back!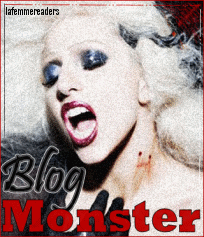 This award was given to me by Jessica from
Book Bound
.
The Blog Monster award signifies all the bloggers out there who constantly work hard to keep an updated and insightful website. They aren't afraid to take a bite with their honest reviews and enjoyable content!!!

This award is for those bloggers who write from their heart.

This award is to all those prolific bloggers, who read voraciously, blog tirelessly and have made the blogging community such a vibrant place. This award is in recognition of their achievements and their enthusiasm. They are the people who keep me going!

(click
here
to see the story behind the award)
Thank you everyone!
Now I'm gonna spread the love, I'd like the give these 4 awards to ...
ParaJunkee
The Bookologist
The Book Vixen
Sara's Urban Fantasy Blog
(She's fairly new, make sure to take a look!)
All Things Urban Fantasy
Happy New Year to everyone!