Creating Oliver, A Girl's Best Friend
by Melissa de la Cruz
When I first imagined the character of Oliver Hazard-Perry, I knew certain things about him from the beginning: that he was Schuyler's best friend, that he was a quiet, sarcastic, artsy guy, who preferred shopping to lacrosse, and was cool and rich enough to hang with the in-crowd, and yet preferred to throw spitballs at the in-crowd from the sidelines. I picked his last names from a list of prominent American family names (the Hazards and the Perrys), and I put them together because they sounded good together, and it gave him a more 'richie-rich' air. And yes, later I realized there was a commander called Oliver Hazard-Perry who won the War of
1812 for the Americans, which made his name resonate even more, because now there was some history behind it. Cool.
The inspiration for Oliver came from my best friend in college, who had lived in Paris and was sophisticated and worldly and sarcastic, and who was slim and handsome and had a swoop of caramel hair over his hazel eyes. But as with all my characters, Oliver took on a life of his own once I began to write the story. For instance, in the beginning, I thought that Oliver
was a Blue Blood, that he was a vampire. It was only halfway through writing the first book that I realized—no. Oliver was human. He was a conduit.
And as for when he began to love Schuyler, in the books he states that he loved her from the beginning, and also that he only loved her when she became a vampire. I get some emails pointing out this "discrepancy". This is funny to me, because to me, Oliver is a real person, and real people change their minds all the time, or lie to themselves. In Masquerade, when Schuyler sees that Oliver has been in love with her from the very start, she is seeing what she wants to see, she is interpreting w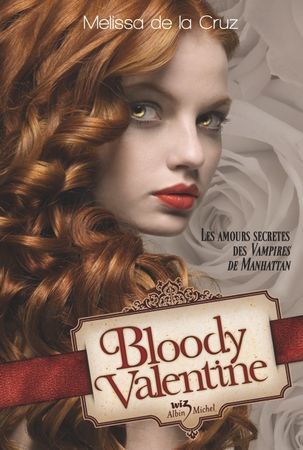 hat she is seeing so is it the truth? Who knows? In Revelations, when Oliver filed his Conduit reports and stated that in contrary to what Schuyler believed, he only fell in love with her when she turned vampire, that's what he believes in that moment. Maybe he's lying to himself. Maybe he's trying to sound braver than he is. I don't think it's a contradiction at all. Human beings are full of contradictions.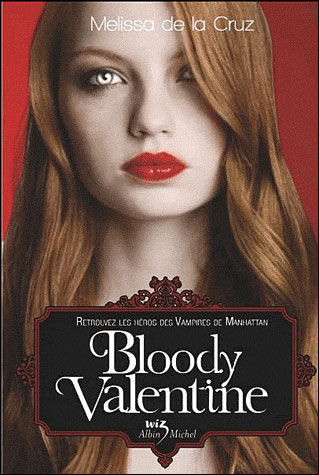 What I love about Oliver is his sense of humor. He's so grounded in the middle of all this supernatural craziness, so he keeps his head. He's also privileged and yet he carries it lightly, and he's a hard worker. No one pushes him around. He's very strong and he's dependable, and I can see how people have a hard time choosing between Jack and Oliver, but I always tell them they can be like me and love them both.
I have a lot of affection for Oliver. There's a scene from the beginning of Revelations, when he and Schuyler sneak out to perform the Sacred Kiss, and she touches his soft, soft hair. Swoooon. I can still feel his hair in my fingers, it's baby soft, and it smells like grass.
Sigh.
--------------------------------
Thank you so much Melissa for taking the time to stop by! It's always nice to know how authors came to create our favorite characters =)
Melissa is also offering one copy of Bloody Valentine to one lucky reader!
Please note that I don't know which edition you will receive.
To enter, you have to leave a comment letting me know which cover is your favorite.
Please include your email addy if it's not in your profile.
You can also earn an extra entry for spreading the word, please provide link in a separate comment.
Open to US & Canada
Ends Feb 25th, 2011.
Vampires have powers beyond human comprehension: strength that defies logic, speed that cannot be captured on film, the ability to shapeshift and more. But in matters of the heart, no one, not even the strikingly beautiful and outrageously wealthy Blue Bloods, has total control. In Bloody Valentine, bestselling author Melissa de la Cruz offers readers a new story about the love lives of their favorite vamps - the passion and heartache, the hope and devastation, the lust and longing. Combined with all the glitz, glamour, and mystery fans have come to expect, this is sure to be another huge hit in the Blue Bloods series.
Also, witness the bonding of Jack and Schuyler.