I am extremely happy to have the amazing Jennifer Estep by my side today! She was so generous and fun to work with, and she jumped right into our project! Her books have been very popular since the first one released and there's a reason for that! Keep on reading to discover more about her books and how she names her characters!
Greetings and salutations! I want to say thanks to Tynga for having me on the blog today. Thanks, Tynga!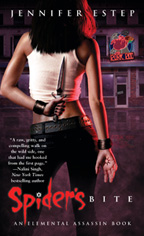 I write the Elemental Assassin urban fantasy series for Pocket Books. The books focus on Gin Blanco, an assassin code named the Spider who can control the elements of Ice and Stone. When she's not busy killing people and righting wrongs, Gin runs a bar be cue restaurant called the Pork Pit in the fictional Southern metropolis of Ash land. The city is also home to giants, dwarves, vampires, and elementals – Air, Fire, Ice, and Stone.
Books in the series are Spider's Bite, Web of Lies, and Venom. Tangled Threads, the fourth book, will be published in May 2011, while Spider's Revenge, the fifth book, will be released in October 2011. Also, Haints and Hob webs: An Elemental Assassin short story will be published in The Mammoth Book of Ghost Romance, which will be released in October 2011.
I also write the Mythos Academy young adult urban fantasy series for Kensing ton. The books focus on Gwen Frost, a 17-year-old Gypsy girl who has the gift of psychometry, or the ability to know an object's history just by touching it. After a serious freak-out with her magic, Gwen is shipped off to Mythos Academy, a school for the descendants of ancient warriors like Spar tans, Valkyries, Amazons, and more.
The first book, Touch of Frost, will be out in August 2011, while the second book, Kiss of Frost, will hit shelves in December 2011.
Today, Tynga asked me to talk about how I come up with my character names. I have to admit that I'm not very scientific about it, especially when it comes to my first drafts. Usually, I'm just typing along when I decide to introduce a new character – and realize that I need a name for her.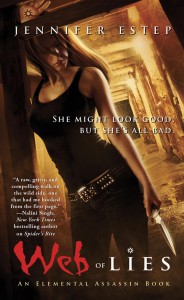 Uh-oh.
I know that some authors spend hours researching names. Sometimes, I'll do that too – or at the very least, go to one of the baby name websites and surf through the various names and meanings until I find one that fits the character. But most of the time if I need a name immediately, I'll sit there and stare blankly at my computer screen for several minutes and try out various names in my head – trying to keep in mind all the other names that I've already used in the book. When I find a name that I like, that's what I go with and continue typing out the story.
Scary, isn't it? LOL.
But that's what second and third and fourth drafts are for – to make sure that everything is as perfect as I can make it, including the names. Sometimes, I'll go back and change a major or a secondary character's name if I don't think it's exactly right. But if you've read my Elemental Assassin series, you know that my main character, Gin Blanco aka the Spider, kills a lot of people in the books – a lot of people. I'll admit that I don't worry too much about the names of the minor bad guys that Gin eliminates. If I could get away with calling them Bad Guy #1 and Bad Guy #2, I would.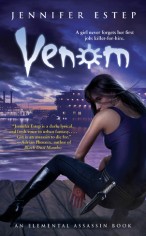 Several years ago, someone gave me a list of Welsh names and their meanings. I've used a lot of those in my books. For example, I got Gin Blanco's real name (Genevieve) from that list. Genevieve means white or white wave, depending on which list or website you look at. I thought Gin/Genevieve was unusual enough to be memorable, and I thought it would be interesting that Gin's name means white when so much of what she does is so very dark and ugly as the Spider.
Detective Bria Coolidge's name (which I shortened from Briallen) also came from that Welsh list. Bria means primrose. Another name that came from that list was Eira, who is Gin and Bria's mother. Eira means snow. Both Bria and Eira have rune necklaces that match their names – Bria's rune is shaped like a primrose, while Eira's is a snowflake.
So for the major characters I do try to come up with names that fit the character and her place in the overall plot, and I try to add in little touches to the story that add to the meaning of the names, like the runes I use in my Elemental Assassin books.
Actually, I've still got that Welsh list of names somewhere in my files – and I may just dig it out again when I start on my next book. ;-)
What about you guys? What are some of your favorite character names? Do you like runes, etc. that tie in with the characters and the meaning of their names?
Jennifer's best Spring Break memory:

One of my favorite spring break memories was when I was about 12 or so. We went to visit some of my cousins who live in another state. Spring break was also during Easter weekend that year, and I had a great time hanging out with my cousins, eating food, and playing softball. ;-)
------------------------------------
I love names and their meaning! My real name is Cindy which is a popular nickname from Cinderella but it also means Divine in Latin. Quite cool lol
I'd rather face a dozen lethal assas­sins any night than deal with some­thing as tricky, con­vo­luted, and frag­ile as my feel­ings. But here I am. Gin Blanco, the semi-retired assas­sin known as the Spi­der. Hov­er­ing out­side sexy busi­ness­man Owen Grayson's front door like a ner­vous teenage girl. One thing I like about Owen: he doesn't shy away from my past—or my present. And right now I have a bull's-eye on my fore­head. Cold-blooded Fire ele­men­tal Mab Mon­roe has hired one of the smartest assas­sins in the busi­ness to trap me. Elek­tra LaFleur is skilled and effi­cient, with deadly elec­tri­cal ele­men­tal magic as potent as my own Ice and Stone pow­ers. Which means there's a fifty-fifty chance one of us won't sur­vive this bat­tle. I intend to kill LaFleur—or die trying—because Mab wants the assas­sin to take out my baby sis­ter, Detec­tive Bria Coolidge, too. The only prob­lem is, Bria has no idea I'm her long-lost sib­ling … or that I'm the mur­derer she's been chas­ing through Ash­land for weeks. And what Bria doesn't know just might get us both dead …
Jennifer very generously offered a copy of her upcoming release, Tangled Threads, to one lucky reader!
To enter, all you have to do is FILL THE FORM and leave a comment answering Jennifer's questions!
Open to US & Canada
You can earn one extra entry by spreading the word!
Tweet: Win! Tangled Threads by Jennifer Estep http://bit.ly/enHp93 hosted by @Tynga & @parajunkee #Giveaway #ParanormalSpringBreak PLZ RT
Ends April 6th, 2011.