There aren't all that many Canadian authors writing Paranormal books, so I was very happy when I discovered Linda Poitevin, a Canadian debut author, and I'm honored to be part of the tour!
A detective with a secret lineage. An undercover Hunter with a bullet-proof soul. And a world made to pay for the sins of an angel…

Homicide detective Alexandra Jarvis answers to no one. Especially not to the new partner assigned to her in the middle of a gruesome serial killer case-a partner who is obstructive, irritatingly magnetic, and arrogant as hell.

Aramael is a Power—a hunter of the Fallen Angels.  A millennium ago, he sentenced his own brother to eternal exile for crimes against humanity. Now his brother is back and wreaking murderous havoc in the mortal realm. To find him, Aramael must play second to a human police officer who wants nothing to do with him and whose very bloodline threatens both his mission and his soul.

Now, faced with a fallen angel hell-bent on triggering the apocalypse, Alex and Aramael have no choice but to join forces, because only together can they stop the end of days.

Purchase: Amazon | Book Depository
Please welcome her warmly as she discuses the geography of Sins of the Angels, released September 27th by Penguin!

Taking Sides: Does a story setting need to be American?
For Canadian authors trying to break into the US market, the question of setting seems to be a perpetual one: on which side of the border should your story happen?
The prevailing opinion is that, if you want to sell to a US publisher (especially one of the big boys) or even sign with a US agent, you need to choose an American setting. I'm living and breathing proof, however, that this isn't necessarily so. While many editors and agents are adamant that readers demand American settings, there's another school of thought that says, "It depends."
I
first raised the issue of setting when I signed with my agent. SINS OF THE ANGELS was set in Toronto—did she think I should move the story to a US city instead? For those of you unfamiliar with Canadian geography, Toronto is a very modern, world-class city of about 2.5 million (5.5 if you include the Greater Toronto Area) sitting on the shores of Lake Ontario. To my surprise, my agent suggested we hold off on any changes of that nature until we'd found an editor for the book, and then leave the decision up to him/her. She, herself, didn't foresee a problem … and she was right.
When SINS found a home with Penguin USA, I discussed the setting issue again, this time with my new editor. The consensus at Penguin's end was that leaving the book in Toronto was not a problem. By this point, I have to admit I was royally confused. What about the whole common-knowledge thing that claimed U.S. readers wouldn't buy books set in Canada? "It depends," replied my editor.
She explained it this way: in some books, the setting plays such a pivotal role in the story that it almost becomes a character. In those instances, readers seem to prefer American settings (and hence, so do agents and editors). In SINS OF THE ANGELS, however, the setting acts as a backdrop. While some place names are mentioned, they're just names and aren't critical to the plotline or the story outcome. The story could be set in any city, really, as long as it was big, urban, and possessed the usual traits of sirens, tall buildings, a metropolitan police force, and plenty of dark, sketchy alleys.
And so SINS remains in Toronto for a number of reasons. First, I trust my editor's opinion. Second,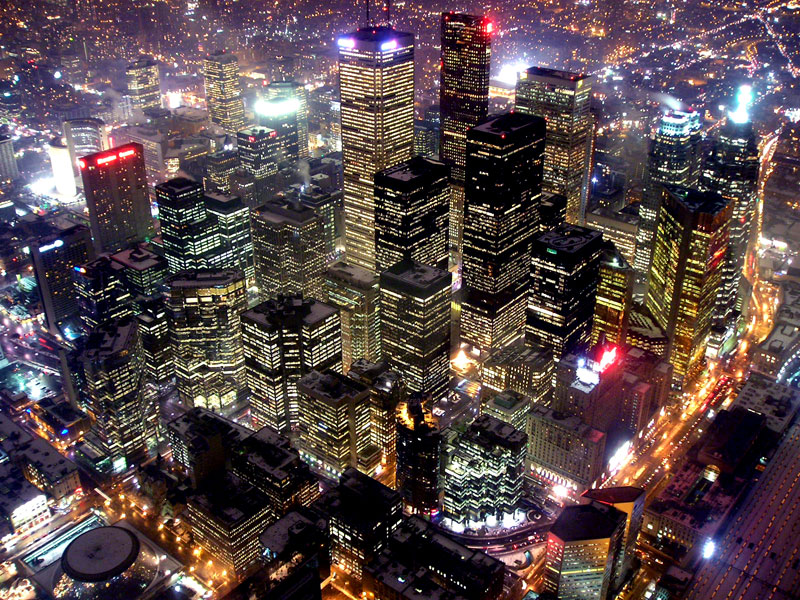 I'm not a well-traveled person (though I hope to change that one day) and I wasn't comfortable moving the story to a U.S. city I'd never visited. While I've never lived in Toronto, I've at least spent some time there. Third, being married to a cop, I have a built-in reference at my fingertips. Procedures between the U.S. and Canada may be similar, but there are still differences—and setting the story on Canadian soil means I have a much better chance of getting the details right.
Ultimately, readers will decide whether or not my decision was a wise one. If I've done my job well, then I think they will become immersed in SINS OF THE ANGELS because of the story, and the setting will remain what it's intended to be—a backdrop to kick-ass action, suspense, and supernatural impossibilities.
But you're the readers … what do you think? Does it matter to you if a story is set way up here in the north? ;)
-------------------------
Thank you so much Linda for stopping by <3 Can't wait to meet you in November!
Linda & Penguin would like to over you guys a chance to win one of two copies of Sins of the Angels!
Open Internationally
To enter, leave a comment answering Linda's question.
You can earn one (1) extra entry for spreading the word, please provide a link in a second comment.
Ends October 12th, 2011.