How about some new covers?
Never To Sleep by Rachel Vincent

Don't Close Your Eyes.

Sophie Cavanaugh is not going to let her freak of a cousin's strange psychiatric condition ruin high school for them both. Not after all the work she's put into cultivating the right look, and friends, and reputation. But then, Sophie sees something so frightening she lets out a blood-curdling scream—and finds herself stuck in a bizarre parallel world where nothing is safe and deadly creatures lurk just out of sight, waiting for her to close her eyes and sleep...forever.

Could this world be real? Or does insanity run in the family...?

Release date: January 1st, 2012.
I think this one is my favorite in that series, I really like it!
-----------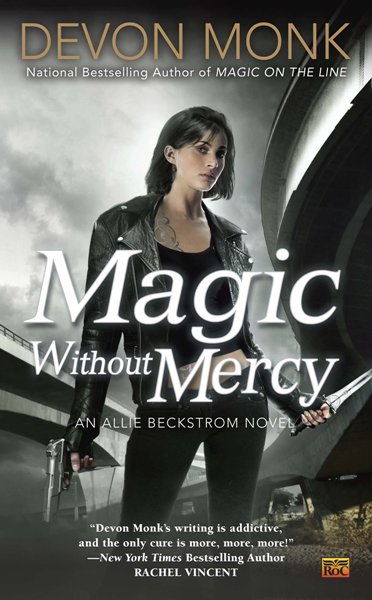 Magic Without Mercy by Devon Monk
This is the eighth book in the Allie Beckstrom series and I think this cover is simply amazing! It fits right in with the previous ones and it's simply black and white coloring has impact!
Release date: April 3rd, 2012.
----------------------
Tin Swift, also by Devon Monk
This one is the second book in the Age of Steam series and I love this cover. The first one was amazing as well so they fit right together!
Release date:  July 3rd, 2012.
--------------------
Thirteen by Kelley Armstrong
This is the last book in the Women of the Otherworld series and I quite honestly don't really like it. Doesn't really matter though, I'll sure get my hands on a copy!
Release date: July 5th, 2012.
------------------
The Taken by Vicki Pettersson

He's a fallen angel. She's a rockabilly reporter. Together they must solve a deadly string of murders plaguing the mortal and the immortal worlds.

Griffin Shaw used to be a PI, but that was over fifty years ago when gumshoes hoofed the streets . . . and he was still alive. Now he's a Centurion, an angel who assists other murdered souls through their journey to the afterlife. But while Shaw might be an angel … he's no saint. Haunted by the mysterious events surrounding his own death, he seizes a chance to wreak some vengeance when he witnesses a deadly attack on journalist Katherine "Kit" Craig.

Joining forces, the unlikely avengers take to the streets, hunting a killer whose trail of bodies stretches across Las Vegas and into an immortal netherworld. It is a dangerous trek that lead them into the darkest corners of Sin City and into the heart of an evil conspiracy extending beyond the lights of the Strip that could destory them both.

But destruction isn't the only threat Griffin faces. The closer he gets to Kit, the more he finds himself bewitched by her mortal charms. Can he resist falling under her spell? And does he want to?

Release date: July 12th, 2012
This is the first book in a new series, and I'd be willing to pick it up simply for the cover. I couldn't explain while I love it so much but the atmosphere in this cover rocks!
------------------------
Just For Fins By Tera Lynn Childs

When Lily Sanderson decided to remain Crown Princess Waterlily of the mermaid kingdom Thalassinia, she knew she couldn't just coast along in the current. But since she's spent the last couple of years on land—with gorgeous human Quince by her side—Lily's not sure she has the fins to lead a kingdom. Even her maddeningly pretentious cousin Dosinia seems to know more about ruling than she does. But Lily has to dive in deep to keep her promise to Tellin, her mer bond in name only, whose kingdom is suffering in the changing ocean climate. Lily knows this is a seven seas–sized problem: from sea animals dying to oil spills and threats to humans. They'll need to create some serious waves to make the mer community aware and get it to join together to make things right. Even if that means facing one of the iciest queens in the mer kingdoms. Just when Lily thinks her double life on land and sea can't get any more complicated, an ancient mer law might separate Lily and Quince after all. It feels as if the pair is up against a solid tsunami wave! In this third installment in the series that began with Forgive My Fins and Fins Are Forever, Lily will have to find a way to balance safety and justice for the mer people as well as for the humans she loves.

Release Date: July 3rd, 2012
This is the third book in the series and I think this latest cover is a great addition to the previous one.
------------------
Lethal Rider by Larissa Ione

They're here. They ride. The Four Horsemen of the Apocalypse.

Born of a match between good and evil, four siblings stand between hell's minions and everything they want to destroy. They are the Lords of Deliverance, and they have the power to ward off Doomsday...or let it ride...
LETHAL RIDER

Thanatos, the most deadly Horseman of the Apocalypse, has endured thousands of years of celibacy to prevent the end of days. But just one night with the wickedly sexy Aegis Guardian, Regan Cooper, shatters centuries of resolve. Yet their passion comes with a price. And Thanatos must face a truth more terrifying than an apocalypse-he's about to become a father.

Demon-slayer Regan Cooper never imagined herself the maternal type, but with the fate of the world hanging in the balance she had no choice but to seduce Thanatos and bear his child. Now, as the final battle draws closer and his rage at being betrayed is overshadowed by an undeniable passion for the mother of his child, Thanatos has a life-shattering realization: To save the world, he must sacrifice the only thing he's ever wanted-a family.

Release date: June 1st, 2012
This is the third book in the Lord of Deliverance series and it's by far my favorite cover so far. Love the steaminess!
-------------------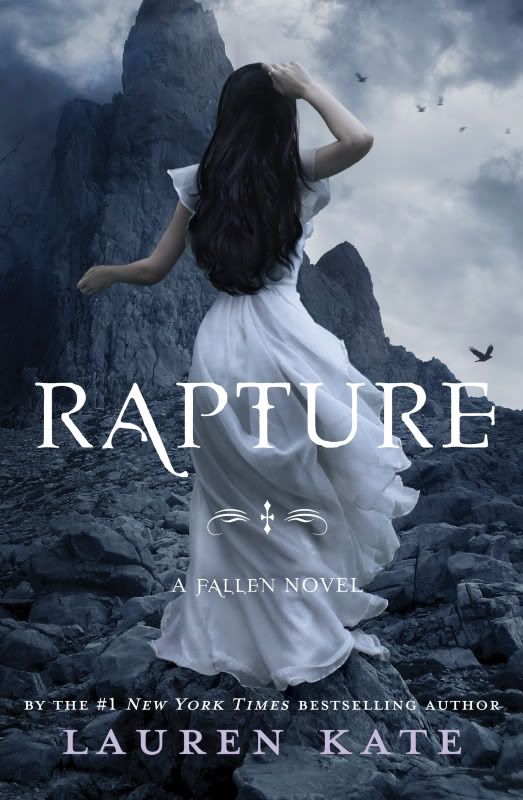 Those two Lauren Kate covers were also recently released.
I especially like the one of Fallen in Love (It's a short story)
----------------
Well I think this week's cover are quite amazing, and I find it hard to pick a favorite!
Which one is yours?