I'm really excited to welcome Devon Monk here today to celebrate the release of Magic on the Line! I'm not quite up to date in the series as I started reading it recently, but It's really great so make sure you read along to discover more!
---------------------
1- Allie has come a long way since the first book, Magic to the Bone, was it all planned out since the get go?
It's been mostly planned since the beginning.  I didn't have every detail mapped out, and some things that have happened have surprised me (in a good way) but I've always known how it was going to end.
2- You've spent years now with those characters, which one is your favorite to write
and why?
I don't know who my favorite is, but I have to say two of the easiest are Shame and Stone. Shame, because he has a smart-mouth and has this attitude going 24/7, which is a ton of fun to write.  Stone, because he's just kind of adorable to me.
3- If you had to build a top 3 songs that makes you think of Magic on the Line what would it be?
Oooh.  Hard question.  I don't tend to attach certain songs to certain books, but instead listen to a variety of playlists while I'm writing.  Some of the songs I listened to while writing MAGIC ON THE LINE were Letters From the Sky by Civil Twilight, Bring Me The Disco King (Lohner mix) by David Bowie, Politik by Coldplay, Tear You Apart by She Wants Revenge, Into Dust by Mazzy Star, and Buffy The Vampire Slayer soundtrack from the episode, Once More With Feeling.
4- Magic Without Mercy, the eighth book in the series was announced to release on April 3rd, 2012, how many more books can we expect in the series?
Just one more after that.  There are nine in the series, and the last will release in November, 2012.
Now onto some Xmas-y questions:
5- How was a typical Christmas when you were a kid?
We didn't have a lot of money, but we always had a gift under the tree we could open Christmas eve, and that would always be a new pair of pajamas.  We also had little gifts in our stockings.  My parents made Christmas a very special time by taking us out to see the neighborhood Christmas lights, making homemade nutmeg egg nog, going out to find the tree together, and making sure we spent as much family time together as possible.
6- What's your favorite thing to do on December 25th's morning?
We carry on the morning tradition my parents started.  We invite all our family over for stocking gifts and breakfast. Somehow we squeeze several dozen people into the living room, exchange gifts, laugh and talk, then cook up a breakfast to share.
7- How old were you when you stopped believing in Santa?
I've never stopped believing in Santa. To me, he represents the spirit of giving inside us all.
8- If we could offer Allie anything for Christmas, what should it be?
A weekend away with Zayvion.  I think they could use some private time together without the world falling apart around them.
------------------
If it got you curious, here's a bit more about Magic on the Line
I took a deep breath, set a Disbursement–a headache this time–and drew a Sight spell. I pulled magic into it. The world broke into shades of old magic among vibrant new spells, bright neon dripping down buildings, pastels drifting along the empty street.

Allison Beckstrom has willingly paid the price of pain to use magic and has obeyed the rules of the Authority, the clandestine organization that makes–and enforces–all magic policy. But when the Authority's new boss, Bartholomew Wray, refuses to believe that the sudden rash of deaths in Portland could be caused by magic, Allie must choose whether to follow the Authority's rules or to turn against the very people for whom she's risked her life.

To stop the plague of dark magic spreading through the city, Allie must put all that she values on the line: her memories, her life. As dead magic users rise to feed upon the innocent and the people closest to her begin to fall, Allie is about to run out of options…

Purchase: Amazon | Book Depository
Devon would like to offer a copy of Magic on the Line to one of you!
Open Internationally!
Giveaway Ends January 4th, 2012.
All you have to do is fill the Rafflecopter form below.
The only mandatory entry is to provide your name and email addy =)
a Rafflecopter giveaway
---------------------------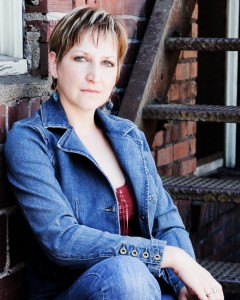 Devon Monk spent her early childhood tucked behind couches or any other place with low light, "ruining her eyes" and reading. Her love of fairytales turned into a love of adventure, magic, future science, romance, mystery, humor, noir, and anything else she could get her hands on.
Devon has sold over fifty short stories to fantasy, science fiction, horror, humor, and young adult magazines and anthologies. Her stories have been published in five countries and included in a Year's Best Fantasy anthology.  In 2010, Fairwood Press published twenty-two of her short stories in a collection titled: A Cup of Normal.
She is currently writing two series.  The Allie Beckstrom books (Magic to the Bone, Magic in the Blood, Magic in the Shadows, Magic on the Storm, Magic at the Gate, Magic on the Hunt)  are urban fantasy set in modern-day Portland, Oregon where magic is the new technology.  The Age of Steam books (Dead Iron) are steampunk set in the 1800′s American West.
Devon has one husband, two sons, and a dog named Mojo. She lives in Oregon and is surrounded by colorful and numerous family members who mostly live within dinner-calling distance of each other. When not writing, Devon is knitting strange things, remodeling the house-that-was-once-a-barn, or hosting a family celebration.
You can visit Devon here.
More Devon Monk's books: