Raven Cursed, the fourth book in the Jane Yellowrock series, releases at the beginning of January, and to celebrate the occasion, our Jenn interview the lovely Faith Hunter! Make sure you read on to discover some interesting Jane tidbits!
---------------------
1- What made you decide to take Jane out of New Orleans and into North Carolina for RAVEN CURSED?
Jane is from the mountains, in both her Cherokee life and her Christian Children's Home upbringing. Beast is a mountain creature from the same area. Plus, I had to set up books five and six, which have their homes in the locale of Raven Cursed.
2- I love how you write from Beast's point of view when Jane transforms. Is it easy for you to shift from one head space to the other?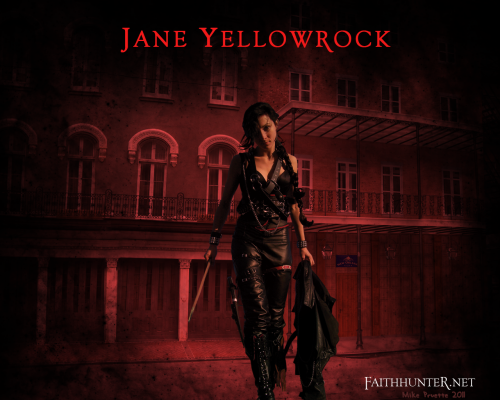 It was quite difficult in the first novel, Skinwalker, partly because it was a new concept for me, and partly because my editor had some fairly strong editorial suggestions about Beast's voice—things that made the voice much easier to write and much easier to read, frankly. Now? It is so easy. And while I know Jane quite well, Beast is always surprising me. I never know what she will say or do.
3- You've been slowly revealing Jane's past over the course of the series. Is there more to learn about Jane's early days?
Yes. New things are revealed that show the reader why Jane does things the way she does, why she reacts with guilt at the oddest times, and why she is so often closed off emotionally. By revealing her past to the reader at the same time Jane discovers it, I'm able to let Jane evolve and grow and develop.
4- I can't imagine Jane ever going the white picket fence route, but will she find a good relationship any time soon? Bruiser and Rick are fantastic characters but they sure bring a lot of baggage with them...
Yes. And no. I know! I know that sounds all wishy-washy! But Jane is pretty self-contained, so that a man would have to be something special to have her all for himself. And, uh, as Beast says, "Big-cats do not mate for life." So, a more full answer is in order. Ricky Bo and Bruiser both have some growing up to do. Rick does a lot of growing in Raven Cursed and in the following book, Death's Rival. Bruiser starts to grow in Death's Rival. Unfortunately, in DR, Jane meets a gorgeous new man… I think by book six, we will know enough about all three men for Jane to make some kind of decision. And no, I do not know what choice she will make.
Now onto some Christmas-y questions
5- What's a typical Christmas like in the Hunter family?
Christmas is a season, not just a day, for me, and because I make so many of my gifts. I make jewelry, so the season has already started. Every year my mom has a Family and Friends Christmas Party in the week before Christmas, where we eat and visit with people we may not see but once a year. I adore that! We sing carols, and eat and vis
it and eat and drink eggnog and eat. LOL. I work at a hospital lab (for the benefits) so Christmas Day is usually spent there, and this year, it will be a 17 hour day. Go ahead. Feel sorry for me!
6- What's your best Christmas memory?
My fourth Christmas. I got my first grown up doll, a Barbie doll. I never cared much for baby dolls, but the Barbie was wonderful! I can still see her in her case, with her hair up. And all the clothes!
7- If you could ask Santa for anything, what would it be?
You know, I have so much that I feel evil for even thinking about wanting more. But I admit that I have long wanted a screen porch out back. So, if Santa could put that in his bag, It would be great.
8- What would a perfect Christmas be like for Jane?
Jane would like to spend Christmas with Molly and her family and her sisters and their families. Hmmm. I need to write that into a short story! Maybe I will at some point.
------------------
If it got you curious, here's a bit more about Raven Cursed
 


The vampires of Asheville, North Carolina, want to establish their own clan, but since they owe loyalty to the Master Vampire of New Orleans they must work out the terms with him. To come up with an equitable solution, he sends an envoy with the best bodyguard blood money can buy: Jane Yellowrock.
But when a group of local campers are attacked by something fanged, Jane goes from escort to investigator. Unless she wants to face a very angry mast vampire, she will have to work overtime to find the killer. It's a good thing she's worth every penny.

Purchase: Amazon | Book Depository

 

 

Is offering us a very special prize! The winner will get a piece of handmade (by Faith herself) jewelry!

Open Internationally

Giveaway Ends January 4th, 2012.

All you have to do is fill the Rafflecopter form below.

The only mandatory entry is to provide your name and email addy =)








---------------------------

Faith Hunter, fantasy writer, was born in Louisiana and raised all over the south. The Skinwalker series, featuring Jane Yellowrock is taking off like a rocket with Skinwalker, Blood Cross, and Mercy Blade with Raven Curseddue in 2012. Her Rogue Mage novels, a dark, urban fantasy series—Bloodring, Seraphs, and Host—feature Thorn St. Croix, a stone mage in a post-apocalyptic, alternate reality, urban fantasy world. These novels are the basis for the role playing game, Rogue Mage (2011).

You can visit Faith Here