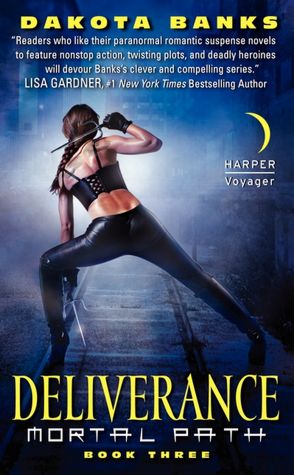 Deliverance by Dakota Banks
Book Stats:
Reading level: Adult
Genre: Urban fantasy
Mass market paperback: 304 pages
Publisher: Harper Voyager
Release date: March 27, 2012
Series: Mortal Path #3
Source: Review copy from HarperCollins
Reviewed by: Jenn
Pre-order: Amazon | Book Depository
Kill . . . or be damned.

A demon's assassin for centuries, Maliha Crayne has gone rogue, determined to save a life for every one she's destroyed in order to free herself from an eternity of enslavement, damnation, and excruciating torment. But as the powers that sustained her in the past fade, she is wary of trusting those closest to her—especially her lover, Jake. And her closest friends are beginning to disappear, one by one. Amid her anger, suspicion, and sorrow, her life is spiraling out of control.

Worse still, a beautiful Renaissance murderess is recruiting Maliha as her new assassin. Maliha is turning into a lethal puppet with an evil Immortal pulling the strings, forced to kill innocents or see her missing friends die horribly. Suddenly trapped in a moral no-man's-land, Maliha is damned if she does and damned if she doesn't . . . and time is rapidly running out.
Maliha Crane leads a complicated life. She was a Sumerian demon's immortal assassin for about 300 years before realizing the error of her ways and choosing to go rogue and walk the mortal path. Her task? To balance the scale, saving enough lives to atone for the ones she took in the demon's name before she dies. Now, she only has some of her previously abilities and she ages a random amount of time every time something happens to her scale, which is literally burned onto her stomach so that she can feel the lives walking from one side of the scale to the other. (No one said the mortal path is easy.)
Thankfully, Maliha has a small team that knows what she is and helps her with her mission: Hound, a Vietnam vet she saved during the war who works as a PI; Amaro, a street kid she saved who's now a wunderkind in the hacker world; and Yanmeng, a spiritual man she saved during the revolution in China. (See a theme yet?) She's also had some interesting men in her life: Jake, a DEA agent from MORTAL PATH, the first book, and Lucian, an Ageless centurion she met in SACRIFICE, the second book.
If you read my PAF interview with Dakota, you know that she's really upped the stakes in DELIVERANCE. She mentions doubling down on the danger/drama/stress and I think that may be an understatement! DELIVERANCE is filled with action, suspense, raw honesty, and great drama. It's definitely the most high-stakes instalment in the series yet and I couldn't put it down. Dakota has done a marvellous job of creating an untenable situation and forcing Maliha to deal with it. I'm sure you all know how much I love characters who suffer at their creator's hands and Maliha does a lot of suffering, in addition to some serious butt-kicking.
As you know from the cover blurb, Maliha and her friends are being manipulated by another Ageless, one who revels in violence and bloodshed. It's a position that is extremely uncomfortable for Maliha, who's forced into a reactionary position similar to the one she occupied when she worked for Rashibu (her demon), as opposed to being her usual woman of action Her opponent is truly evil and is another great example of how well the author incorporates history into her narrative.
There's so much good stuff in DELIVERANCE it's hard for me to say what I liked best about it. If forced, though, I think I'd say it's the fact that we get to see how much Maliha's relationships mean to her and how important her team have become, even though she knows she'll outlive them all. Her bond with Yanmeng, in particular, is touching. We see just how much she's will to do to save her people when they're threatened and it's a testament to how much Maliha's evolved since she was Ageless.
Overall, DELIVERANCE is a satisfying slice of urban fantasy, sure to please fans of the genre. I strongly encourage you to check out this book and series!
P.S. You can read more about the series mythology on Dakota's website.