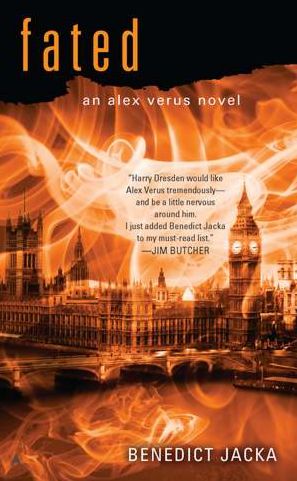 Fated by Benedict Jacka
Book Stats:
Reading level: Adult
Genre: Urban fantasy
Mass market paperback: 304 pages
Publisher: Ace
Release date: February 28, 2012
Series: Alex Verus #1
Source: Review copy from Penguin
Reviewed by: Jenn
Purchase: Amazon | Book Depository
Alex Verus is a diviner, able to see the future. This is impressive to most people but less so to other mages, who can do things like throw fire, disintegrate things, and fly. Right now Alex has a problem – a site's been discovered containing an ancient and powerful relic, and lots of people are looking for a diviner to open it, including a trio of dark mages, a faction of the Council with an agenda of their own, and a shadowy figure out of Alex's past, all of whom are looking to recruit, press-gang, or kill Alex, not necessarily in that order.

As if that's not enough, Alex has to take care of his would-be apprentice, who has some connection to the relic which is making her a target as well . . . and who also just happens to carry a curse that'll kill anyone who gets too close, assuming the mages hunting her don't do it first. His allies are an air elemental with the memory of a goldfish and a creature living under Hampstead Heath that would make most people run screaming.

Sometimes seeing the future isn't as fun as it sounds.
I was so excited when I first heard about Benedict Jacka's Alex Verus series. I was on tenterhooks waiting for my review copy of FATED to arrive because I loved the cover copy on the book and the fact that it was blurbed by Jim Butcher, an author I adore. Needless to say, I jumped right in when it showed up in my mailbox. And you know what? I loved it! In fact, there are so many great parts to FATED that I'm hard pressed to know where to start.
First of all, Benedict Jacka has created a marvellous world. In this series, most of the world is unaware of the magic that is an everyday part of Alex Verus' life. There is, however, a small part of the population who are sensitives, i.e. folks who can feel the presence of magic but don't necessarily know what's what, an even smaller group of people known as adepts who can channel magic but don't really wield it, and finally a tiny slice of the world's population who are mages. Mages have different gifts but I think Alex's abilities -- seeing possible futures -- is by far the most interesting. It means he has to use his brains to get out of the many bad situations he finds himself in, rather than using straight-up brawn, and it makes for a much more exciting story.
Here's a quick quote to give you an idea of what Alex does:
My name is Alex Verus. It's not the name I was born with, but that's another story. I'm a mage; a diviner. Some people call mages like me oracles, or seers, or probability mages if they want to be really wordy, and that's fine too, just as long as they don't call me a "fortune teller."
Of course, a story needs a strong protagonist to be memorable and Alex is fantastic. He quickly became one of my favourite urban fantasy leads. He's got so much depth, right from the very beginning, and he really leapt off the page. And he's smart. I know I mentioned it before but I love smart heroes. There's really nothing like it. Plus, Alex's powers give him a different perspective on the world and his past has turned him into something of a loner. There were certain points in the novel where I was struck by how similar Alex is to Jim Butcher's Harry Dresden (had bad experiences as an apprentice, goes against the typical mage path, finds himself in situations that become progressively more (potentially) catastrophic, often due to his desire to help) but these moments were fleeting. And really, being compared to Jim Butcher is not a bad thing, at least not in my opinion. ;) (As an aside, you can read a great conversation between Benedict Jacka and Jim Butcher over at B&N. You have to scroll down the page a bit.)
Alex isn't the only fun character in FATED. He was my favourite but I was also charmed by some of the other characters, like Luna and Starbreeze. Starbreeze is an air elemental with the emotional maturity of a child. Her love of shiny things made me laugh. Luna's a bit more complex. She carries a curse thanks to a bad decision by one of her ancestors and it makes it dangerous to be her friend. Luna and Alex's friendship really grows over the course of FATED and I particularly enjoyed Luna's story arc in the novel.
In terms of the story, I don't think FATED could have been any better. Benedict Jacka takes his readers -- and his characters -- on quite the journey. The plot is so layered and a lot of the characters have have murky motivations and I couldn't predict what was going to happen, which I loved. Plus you learn a lot about Alex's past and why he's decided to be the only mage with a shop rather than being involved with the Council, the body that governs mages.
Before I sign off, can we just take a moment to admire the cover? It really stands out to me because (a) the colours and smoke effects are gorgeous and (b) it's one of the rare urban fantasy novels that doesn't have a scantily clad women or menacing man on the front.
After having so much fun reading FATED, I'm desperate to get my hands on CURSED! (There's a sneak peak at the end of FATED but I'm resisting the urge to read it because CURSED isn't out until June. Not that long in the publishing world, I know, but it's going to feel like forever if I read the snippet...)