Our post today is from the delightful Kim Harrington, author of the YA Clarity series. The first book, CLARITY, came out last year and its sequel, PERCEPTION, was released on March 1. Keep reading to find out about the pranks Kim has played on her friends and family and make sure to stick around for the fantastic giveaway that Scholastic is offering.
---------------------
Confession: I love playing pranks on my family and friends. Loooove it. It's often the highlight of my day. My shenanigans range from silly little scares to meticulously planned full-scale pranks.
For small scares, here are my old stand-bys:
- There's nothing like a good static electricity shock in winter. This is half the reason I wear fuzzy slippers. I especially love to zap my husband's head when he's watching TV and not expecting it.
- Wrap a rubber band around the spray hose at your kitchen sink and slightly aim it upward. The next person to turn the water on will get a spray in the face.
- Stand quiet and still in a doorway when you know someone's going to walk by. They will inevitably have the daylights scared out of them, but you can claim innocence by saying, "I didn't jump out at you! All I did was stand there." *snicker*
It's hard to pick one of my more involved pranks to tell you about. One of my favorites was what I did to my poor mother's stuffed giraffe, but you can read that story already here. Instead, I'll tell you about a more recent prank I played…on my neighbors.
My friend is super busy and had recently told me she didn't even have time to take her Christmas decorations down yet. This got my wheels turning. A few days later I painstakingly crafted an Angry Old Lady Letter. In the note, I pretended to be an anonymous neighbor who was deeply offended that my friend had tainted the neighborhood by leaving her decorations up for so long. I then wrote that she had forty-eight hours to remove the decorations or I'd report her to the town.
Here's the tough part. My friend knows I love to do things like this. I once changed the name on her mailbox to something…funny…and she didn't notice for a week. So I knew I'd be an immediate suspect. But she also knows I'm a writer. So I purposefully inserted spelling and grammatical errors. Nothing over the top. Only about three of them, including an incorrect usage of "it's." Common, but something I wouldn't do. And I printed the letter in Comic Sans.
We timed the delivery for when one of them was out. My husband snuck up to their house in the dark, like a ninja, and taped the note to the front door. Then we giggled, snuck home, and waited for the phone to ring. Soon enough, they came home, read the note, and immediately posted about it on Facebook. With indignant threats to leave the decorations up all year long.
I nearly fell off my chair laughing.
I let it go on for about thirty minutes, then confessed. That's another important part of playing a prank. You have to know when to end it.
But the laughing? That never has to end.
---------------------
Thanks very much for stopping by, Kim! I think we've all learned to beware the next time we see you at a signing. =)
Want to know more about PERCEPTION? Here's the scoop:
When you can see things others can't, what do you do when someone's watching you?

Everybody knows about Clarity "Clare" Fern. She's the psychic girl in school, the one who can place her hands on something and see hidden visions from the past.

Only Clare would rather not be a celebrity. She prefers hanging back, observing. Her gift is not a game to her.
But then someone starts playing with her head . . . and heart. Messages and gifts from a secret admirer crop up everywhere Clare turns. Could they be from Gabriel, the gorgeous boy who gets Clare's pulse racing? Or from Justin, Clare's hopeful ex-boyfriend who'd do anything to win her back?

One thing is certain. Clare needs to solve this mystery, and soon. Because the messages are becoming sinister, and a girl in town has suddenly disappeared.

Purchase: Amazon | Book Depository
Click on the cover below to learn more about CLARITY: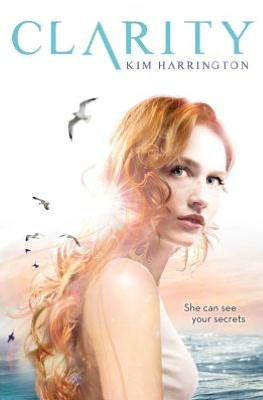 ---------------------

We have two (2) sets of CLARITY and PERCEPTION to give away, courtesy of the kind folks at Scholastic!
Just follow the Rafflecopter instructions to enter.
US only
Giveaway ends Sunday, April 15, 2012.
a Rafflecopter giveaway
---------------------
Kim Harrington lives in Massachusetts with her husband and son. When not writing, she's most likely reading, watching one of her favorite TV shows, or fantasizing about her next vacation. She has no psychic powers and is cool with that. Her debut young adult novel, Clarity, came out on March 1, 2011 from Scholastic.
Website | Blog | Facebook | Twitter