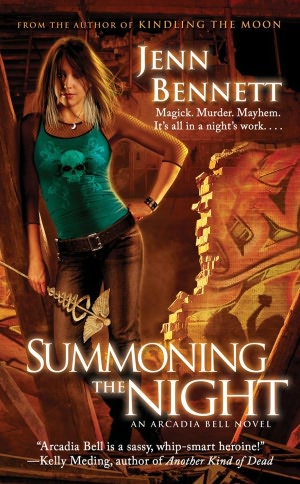 Summoning the Night by Jenn Bennett
Book Stats:
Reading level: Adult
Genre: Urban fantasy
Trade paperback: 336 pages
Publisher: Pocket
Release date: April 24, 2012
Series: Arcadia Bell #2
Source: Review copy from Pocket
Reviewed by: Jenn
Pre-order: Amazon | Book Depository
Magick. Murder. Mayhem. It's all in a night's work...

After narrowly escaping her fate as a sacrificial scapegoat, Arcadia Bell is back to normal. Or at least as ordinary as life can be for a renegade magician and owner of a tiki bar that caters to Earthbound demons. She's gearing up for the busiest day of the year—Halloween—when a vengeful kidnapper paralyzes the community. The influential head of the local Hellfire Club taps Cady to track down the fiendish bogeyman, and now that she's dating red-hot Lon Butler, the Club's wayward son, she can hardly say no.

Cady and Lon untangle a gruesome thirty-year trail of clues that points to danger for the club members' children. But locating the person behind the terror will require some metaphysical help from Cady's loyal bar patrons as well as her potent new Moonchild powers—and she'd better figure it out before the final victim disappears and her own darkest secret becomes her biggest enemy.
I was absolutely thrilled when Jenn Bennett agreed to participate in Paranormal April Fools' because I think she's an extremely talented writer. (And I love her hat in her author photo.) I was even more excited when my review copy of SUMMONING THE NIGHT appeared in the mail because it meant I got to spend time with Cady, Lon, and Jupe. I thought Cady's first adventure, KINDLING THE MOON, was a masterful debut (my full post here) and I was dying to find out what was going to happen next. I'm pleased to report that SUMMONING THE NIGHT exceeded my (perhaps too high) expectations! Jenn Bennett has created another amazing novel filled with strong characters, magical surprises, and quirky humour.
The central plot of SUMMONING THE NIGHT revolves around the return of the Snatcher, someone who was kidnapping teenagers 30 years ago and who's back for more of them just in time for Halloween. Cady and Lon get roped in because the kids that are getting taken are from Hellfire Club families; neither one of them particularly want to associate with the Hellfire Club but they do end up investigating the old crime to try to stop the current one. It's a great story with lots of twists and turns and I couldn't predict what was going to happen as the novel progressed. In the process of their investigation, we get to learn more about Cady's Moonchild powers and about the magics that exist in Cady's world.
On the relationship front, Lon and Cady's romance is going strong. It's not quite old hat but they're definitely comfortable with each other. There are some great sexy moments but I really enjoyed seeing them a little more (but not entirely) settled. I also enjoyed the occasional comments other characters made about their age gap. :) Plus, the family dynamic with Lon's teenage Jupe is adorable. Cady and Jupe's relationship is a lot of fun because they're closer in age than she and Lon and because Jupe is just such a rascal. He's absolutely irresistible and I love it when he's on the page. There are some particularly awesome Jupe moments in SUMMONING THE NIGHT so you'll need to pick this book up if you liked him in KINDLING THE MOON.
We also get to see some new faces and learn more about some of the characters introduced in Cady's debut. There are some wonderful scenes with Kar Yee, Cady's business partner and best friend. Kar Yee's one of my favourite characters in the book because she's so sharp and alive and I was pleased to get to know her better. We also get to know some of the darker folks, particularly Ambrose Dare from the Hellfire Club. I don't like him. You won't either. But he's good for the story and I appreciate him for that reason, and that reason alone.
All in all, SUMMONING THE NIGHT is a fabulous entry into the urban fantasy genre and I can't wait to see what happens with Cady, Lon, and Jupe next. Make sure you pick up your copy on April 24!
To help you remember, check out the best book trailer EVA: