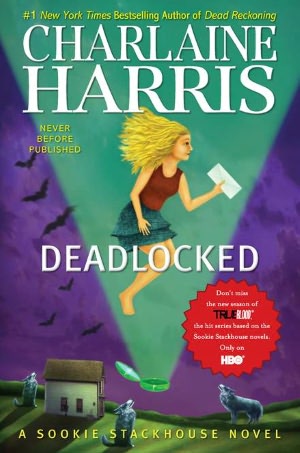 Deadlocked by Charlaine Harris
Book Stats:
Reading level: Adult
Genre: Paranormal romance
Hardcover: 336 pages
Publisher: Ace
Release date: May 1, 2012
Series: Sookie Stackhouse/Southern Vampire #12
Source: Review copy from Penguin
Reviewed by: Jenn
Purchase: Amazon | Book Depository
It's vampire politics as usual around the town of Bon Temps, but never before have they hit so close to Sookie's heart...

Growing up with telepathic abilities, Sookie Stackhouse realized early on there were things she'd rather not know. And now that she's an adult, she also realizes that some things she knows about, she'd rather not see—like Eric Northman feeding off another woman. A younger one.

There's a thing or two she'd like to say about that, but she has to keep quiet—Felipe de Castro, the Vampire King of Louisiana (and Arkansas and Nevada), is in town. It's the worst possible time for a human body to show up in Eric's front yard—especially the body of the woman whose blood he just drank.

Now, it's up to Sookie and Bill, the official Area Five investigator, to solve the murder. Sookie thinks that, at least this time, the dead girl's fate has nothing to do with her. But she is wrong. She has an enemy, one far more devious than she would ever suspect, who's set out to make Sookie's world come crashing down.
I was SO excited when DEADLOCKED arrived in the mail on Tuesday that I devoured it that evening! The Sookie Stackhouse series was one of my first forays into urban fantasy/paranormal romance and I've always enjoyed the stories (though I did find the last book, DEAD IN THE FAMILY, a little less satisfying). Needless to say, I was desperate to know what was going to happen to Sookie this time around and, overall, I was happy with how DEADLOCKED turned out.
With the series soon coming to a close, I was particularly excited to see what Charlaine Harris had in store for us with DEADLOCKED, the penultimate novel. There were a lot of loose strings left at the end of DEAD IN THE FAMILY and I was curious to see where the authors would take us, knowing that everything needs to be wrapped up soon. I wasn't sure what to expect since there are so many story lines in the series but I was quite pleased with the focus and plot of DEADLOCKED. DEAD RECKONING, the previous book, focussed primarily on Sookie's fairy roots, and we get a bit more of that this time around but the main mystery revolves around a dead body found on Eric's lawn. Naturally, this adds more strain to Sookie and Eric's already-stressed relationship, forcing Sookie to take a good, hard look at where she is in her life. There are also some wonderful moments with Tara, Jason, Pam, and Sam. Plus, the cover copy hints that Sookie has an enemy she'd never suspect and it's true! It makes a lot of sense when you find out who this enemy is but I never guessed that it would be him/her. (I'm deliberately being vague to keep this post spoiler-free for you.) We also get to learn more about the Cluviel Dor and see how having it impacts Sookie's life. It ends up revealing a lot about the people around her, which was great from the reader's point of view, though perhaps no so wonderful for Sookie.
Reading DEADLOCKED really showed me how much Sookie has grown since DEAD UNTIL DARK, the first book. Everything was so new to her then and now she's survived failed relationships, wars, and countless attempts on her life. There have also been some happy moments but the events that have shaped Sookie's outlook at this point are mostly the sad/scary ones. I love how much wiser Sookie is now, even though some of her troubles remain. It's really nice to see how much her relationships have changed over the series, with some becoming more meaningful and others changing in different ways. I find her relationships with her exes the most interesting because they demonstrate maturity from all parties.
DEADLOCKED comes out tomorrow so make sure you get your copy ASAP. It's an excellent entry in the series and Sookie fans will not be disappointed. DEADLOCKED has all of the things we love about this world -- Southern manners, tongue-in-cheek humour, strong characters -- and some exciting new developments. I can't wait to see how Charlaine Harris finishes up Sookie's saga next year!
P.S. I'm pretty sure that most everyone knows about Sookie Stackhouse, thanks to the popularity of Charlaine Harris' novels and the True Blood TV series. If you've only watched the show, though, you should know that the books are quite different in terms of tone and characters. (Jessica, for example, is not in the books and Lafayette isn't Tara's cousin.) The Sookie books have a much different tone and scope since they're narrated from Sookie's perspective. If you haven't tried this series, I'd suggest you begin with DEAD UNTIL DARK because Charlaine Harris has created a big world with a huge cast of characters and you might get lost if you jump in now.