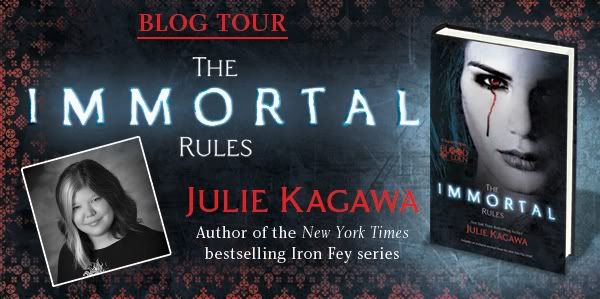 Julie Kagawa is currently on a blog tour to promote THE IMMORTAL RULES, the first book of an amazing new dystopian vampire series. We're big fans of Julie's work and we're very excited to be the tenth stop on the tour!
Check out the post and then stick around to learn more about the rest of the tour and enter to win a signed copy of THE IMMORTAL RULES!
---------------------------------
Stop #10 – Welcome to the Wilderness
There was no road to follow, at least, not where I had come out. I did stumble upon a few leftovers of human civilization—old houses crumbling under carpets of weeds and moss, a few rusty car skeletons choked with vines—but the farther I got from the city, the wilder the forest became. I'd had no idea it was this big, that trees could just stretch on forever and ever. I met no one in my travels, human or vampire, though the woods were teeming with wildlife, most of which I had never seen before and knew their names only through stories. Fox and skunk, rabbit and squirrel, snakes, raccoons and endless herds of deer.
Please visit Once Upon A Twilight for the next stop on The Immortal Rules blog tour.
---------------------------------
Dying to see what's next? Make sure to check out the other stops on Allie's journey! Click on the icon below to go to the Harlequin page for the initial post and info on the rest of the stops:
Harlequin is offering an amazing giveaway on their site: a Kindle Touch with a one-of-a-kind Immortal Rules skin! Click on the tour banner above or right here to enter to win if you live in the US or Canada (excluding Quebec).
For more information about Julie and her books, check out the Blood of Eden web page or her author website. You can also find her on Facebook and Twitter.
---------------------------------
Here's the scoop of THE IMMORTAL RULES:
You will kill. The only question is when.

In the dark days since the insidious Red Lung virus decimated the human population, vampires have risen to rule the crumbling cities and suburbs. Uncontested Princes hold sway over diminished ranks of humans: their "pets." In exchange for their labor, loyalty and of course, their blood, these pets are registered, given food and shelter, permitted to survive.

Unregistered humans cling to fringes, scavenging for survival. Allison Sekemoto and her fellow Unregistereds are hunted, not only by vampires, but by rabids, the unholy result of Red Lung-infected vampires feeding on unwary humans. One night, Allie is attacked by a pack of rabids, saved by an unlikely hero...and turned vampire.

Uncomfortable in her undead skin, Allie falls in with a ragtag crew of humans seeking a cure, or cures: for Rabidism and for Vampirism. She's passing for human...for now. But the hunger is growing and will not be denied. Not for friendship—not even for love.

Read Tynga and Jenn's thoughts

Purchase: Amazon | Book Depository
Harlequin is graciously offering one (1) signed hardcover copy of THE IMMORTAL RULES to a lucky reader!
To enter the giveaway, obey the Rafflecopter!
US/Canada only
Ends Tuesday, May 8, 2012
a Rafflecopter giveaway
Don't forget to enter the Harlequin giveaway as well!
---------------------------------
To pay the rent, Julie worked in different bookstores over the years, but discovered the managers frowned upon her reading the books she was supposed to be shelving. So she turned to her other passion: training animals. She worked as a professional dog trainer for several years, dodging Chihuahua bites and overly enthusiastic Labradors, until her first book sold and she stopped training to write full-time. Her third novel, The Iron Queen, became a New York Times bestseller and her debut novel, The Iron King recently won the RITA award for best young-adult fiction novel of 2010.
Julie now lives in La Grange, Kentucky, with her husband, two obnoxious cats, one Australian shepherd who is too smart for his own good and the latest addition, a hyperactive papillon.