Today's post is all the lovely C.C. Hunter and about her upcoming release TAKEN AT DUSK. I'm so pleased that C.C. was available to take part in Paranormal April Fools' and chat about her work.
Read on to learn all about TAKEN AT DUSK, the third Shadow Falls novel, which will be on bookshelves in just five short days!
---------------------------------
Hi, C.C., and welcome to the blog. We're so glad you're able to participate!
Thank you so much for inviting me. I love chatting about Kylie and all her friends.
TAKEN AT DUSK is the third book in your Shadow Falls series. Has the series surprised you in any way or has it developed the way you planned?
Nothing ever goes exactly the way I plan when I write a book. It must be a curse, or something. Characters are always misbehaving, which leads to a plot twist that I didn't expect. Of course, I can't complain, though—most of the time it's those twists that really brings the book alive.
Will Kylie finally find out what she is in TAKEN AT DUSK?
Oh, yes!! And believe it or not, I didn't know what she was until I was working on the third book. Poor Kylie, it's not easy for her to accept her identity, either. I'm working on Whispers at Moonrise, book four in the Shadow Falls series, right now and she's still having hard time accepting it.
Since your books are set at Shadow Falls camp, I have to ask: do you have a camp story you can share with us?
You mean, like staying awake until the wee hours in the morning and then trekking across the campgrounds to the boys' cabin and putting shaving cream all over their cabin doors? Or stealing a kiss from one of the male campers, the same one who tipped over my canoe just to get my attention? Nope, I wouldn't have any stories like that. LOL.
If you had to pick theme songs for your main characters, what would they be and why?
Hmm . . . good question. I've never really thought about it, to be honest. Here's the truth: some writers love to listen to music when they write because it inspires them, and so they will play music that becomes the book's soundtrack. I think that is a smart idea for them because they start to associate the music with the book, and it keeps their imagination fired. Unfortunately, it doesn't work for me if the song has lyrics. I'm dyslexic, which means writing is a bit harder for me. Sometimes I use the wrong word, or transpose letters in a word, so I try to limit my distractions when I write. If I'm listening to music with lyrics, I know I'll get distracted.
Now, all that said, if Kylie had a theme song, it would probably be Natasha Bedingfield's Unwritten. It's a beautiful song about a person starting on a personal journey of self-discovery. She doesn't know where the journey will take her because her future is still unwritten, but that's okay because she's the one who will shape her own destiny.
I am unwritten, can't read my mind, I'm undefined
I'm just beginning, the pen's in my hand, ending unplanned
Staring at the blank page before you
Open up the dirty window
Let the sun illuminate the words that you could not find
I think that song really fits Kylie and her journey of self-discovery. Each new gift she discovers she has, tells her a bit more about her heritage. But Kylie knows that whatever she may discover about herself, her destiny is her own.
And now that I think about it, that could be the theme song for everyone at Shadow Falls.
Can we expect more Shadow Falls stories in the near future?
Well, we're looking at five books total for the series. And I gotta tell you, it will be a sad day when I have to say goodbye to the characters. As crazy as it sounds, I really do start feeling as if they are real people. I mean, I spend so much time focused on their life and what's happening to them, that it's hard to say goodbye. But I know it's coming . . . and it will be exciting to start a new series.
And now I have a couple April Fools'-related questions:
To prank or not to prank?
Definitely to prank! I come from a long line of pranksters. And it doesn't even have to be April Fool's Day for me to pull a prank. Recently, my husband went shopping for some clothes and he came back bragging about what a great deal he got. I had my friend call up and pretend she was from the store and told him they had added up his purchase wrong and he needed to come back to the store and pay another $50. Then, she accused him of practically stealing from them. He believed it was really the store and got so annoyed that he hung up on her. I had to come clean. Of course, he swore he had figured it out. My friend and I are still laughing about it.
If you were going to prank one of your characters, which one would you choose and why?
Perry. He's a prankster himself and it's about time someone turned the tables. Remember how thrilled he was when he changed into the unicorn in front of Kylie the first time? However, now that I think about it, Kylie kind of does trick him with something in Taken at Dusk. Poor Perry. It's hard not to like him.
Thanks for visiting, C.C.! We're looking forward to TAKEN AT DUSK.
And thanks so much for having me here for Paranormal April Fools. I had a blast!
---------------------------------
Don't you just love C.C.'s song choice?
Want to know more about TAKEN AT DUSK? Here you go!
Step into Shadow Falls, a camp for teens with supernatural powers. Here friendship thrives, love takes you by surprise, and our hearts possess the greatest magic of all.

Kylie Galen wants the truth so badly she can taste it. The truth about who her real family is, the truth about which boy she's meant to be with—and the truth about what her emerging powers mean. But she's about to discover that some secrets can change your life forever…and not always for the better.

Just when she and Lucas are finally getting close, she learns that his pack has forbidden them from being together. Was it a mistake to pick him over Derek? And it's not just romance troubling Kylie. An amnesia-stricken ghost is haunting her, delivering the frightful warning, someone lives and someone dies. As Kylie races to unravel the mystery and protect those she loves, she finally unlocks the truth about her supernatural identity, which is far different—and more astonishing—than she ever imagined.

Pre-order: Amazon | Book Depository
Click on the cover to find out more about the first two books in the series:
You can also check out TURNED AT DARK, a free e-novella set in the Shadow Falls world: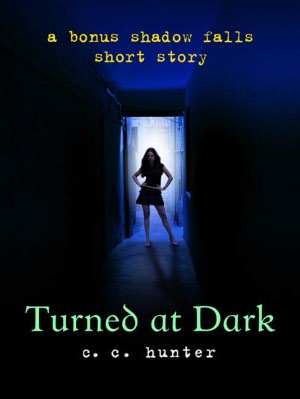 ---------------------------------
St. Martin's Press is generously offering two (2) copies of TAKEN AT DUSK to a couple lucky readers!
To enter the giveaway, fill out the Rafflecopter form below.
US only
Ends Sunday, April 15, 2012
(like all of our Paranormal April Fools' giveaways)
a Rafflecopter giveaway
---------------------------------
C.C. Hunter grew up in Alabama, where she caught lightning bugs, ran barefoot, and regularly rescued potential princes, in the form of Alabama bullfrogs, from her brothers. Today, she's still fascinated with lightning bugs, mostly wears shoes, but has turned her focus to rescuing mammals. She now lives in Texas with her four rescued cats, one dog, and a prince of a husband, who for the record, is so not a frog. When she's not writing, she's reading, spending time with her family, or is shooting things-with a camera, not a gun.
C.C. Hunter is a pseudonym. Her real name is Christie Craig and she also writes humorous romantic suspense romance novels for Grand Central.