Today's guest is new to the blog: the wonderful Gini Koch. I really enjoy her books and I'm quite excited to see what she has in store for us in ALIEN DIPLOMACY, the fifth book in her Alien series, which is being released today. (Happy book birthday!)
Keep reading to learn all about Gini's Alien series and enter to win a copy of ALIEN DEMOCRACY!
---------------------------------
Hi, Gini, and welcome to Tynga's Reviews! We're so happy you're able to participate in Paranormal April Fools'.
Thanks! It's great to be here!
To start, can you tell us a little bit about your Alien series, for those of us who are new to your world?
The Alien series follows Katherine "Kitty" Katt, the world's best accidental badass, as she discovers first that the Roswell rumors are true, but with a twist -- the aliens are here to help us, and as a side benefit, they're all gorgeous. She then learns that the world isn't like what she though it was, but that's okay, because Kitty's nothing if not adaptable.
Kitty first get involved protecting herself and her world from evil parasitic superbeings from outer space. As the series goes on, she discovers more plots and conspiracies -- both internal and extremely external -- to foil and disrupt. From alien invaders to insane politicians and everything in between, Kitty's always ready with a quirky worldview, sly sense of humor, a well-stocked iPod, her mom's extra Glock, and all the extra-hold hairspray a girl could need.
f you only had 10 words to tease ALIEN DIPLOMACY, what would you say?
See Kitty in Washington. See Kitty and Washington not mix.
ALIEN DIPLOMACY is the fifth book in the series. Did anything about it surprise you while you were writing?
I'm continually surprised, because I'm an extreme linear writer. I start with the title, and the first line, and go from there. There were plenty of things that surprised me with Alien Diplomacy, not the least of which being who the real Big Bad of the book is.
Who would you cast as your main characters if the series was adapted for TV or the big screen?
This is a hard question, for a variety of reasons, the biggest being I like readers to see the characters in their minds, to decide for themselves just who they think Martini or Kitty or Christopher look like. However, I can't pretend I don't think about it, either. ;-D
My business answer is: whoever could open the movie/TV show well, have the right on-screen chemistry, and ensure the movie had legs or the show went at least 5-7 seasons.
The answer you WANT, however, is, as of right now (versus who I said, say, a few months ago or who I'll say a few months from now):
Martini - Chris Hemsworth (aka Thor)
Kitty - Emma Stone
Christopher - Chris Pine
Reader - Matt Bomer (who stars in White Collar and is, frankly, THE perfect embodiment of Reader)
Gower - D.B. Woodside
Tim - Joseph Gordon-Levitt
Claudia - Jessica Alba
Lorraine - Scarlett Johannson
Chuckie - Joel McHale
These answers are always subject to change, other than Matt Bomer as Reader, because he is literally perfect.
Will we see more of Kitty and Jeff in the future? Can you give us any exclusive tidbits about what's to come in the series?
Yes. I'm working on Book 6, Alien vs. Alien, right now, which is out December 2012, and Books 7 & 8, Alien in the House and Alien Collective, are coming in 2013. As for exclusive tidbits, well, I live spoiler free. But not teaser free.
Things will keep on changing for everyone's favorite inter-species couple. And they won't always change in a good way. The question of Paraguay and what's really going on there gets answered, but the answer doesn't necessarily mean good things for the world in general and our team of heroes in particular.
Oh, and there's a new Alpha Four animal in town that's going to give the Poofs some competition for Kitty's affections. (Though nothing can compete with the Poofs in terms of adorableness.)
And now I have a couple April Fools'-related questions:
Is there a trick you fall for every time?
The hubs tends to be able to fake me out with "news" that isn't real. It's gotten so I don't believe anything he tells me at first blush. Meaning he's telling the truth, of course. And then the moment I figure he's stopped and believe the NEXT story…
How would Kitty and Jeff react to being pranked?
By laughing. And then getting even. In a big way. Hey, it's how they roll.
Thanks for participating in our Paranormal April Fools' event, Gini! It's been lovely and I can't wait to see what Kitty and Jeff get up to next. =)
---------------------------------
Want to know more about ALIEN DIPLOMACY? Here you go!
Being newlyweds and new parents is challenging enough. But Jeff and Kitty Martini are also giving up their roles as super-being exterminators and Commanders in Centaurion Division while mastering the political landscape as the new heads of Centaurion's Diplomatic Corps. Enter a shadowy assassination plot and a new set of anti-alien conspirators, and nothing will ever be the same...

 

Purchase: Amazon | Book Depository

 

 

 
And here's the rest of the series:
---------------------------------
We have two (2) copies of ALIEN DIPLOMACY for our readers, thanks to the generosity of Penguin!
To enter the giveaway, fill out the Rafflecopter form below.
US only
Ends Sunday, April 15, 2012
(like all of our Paranormal April Fools' giveaways)
a Rafflecopter giveaway
---------------------------------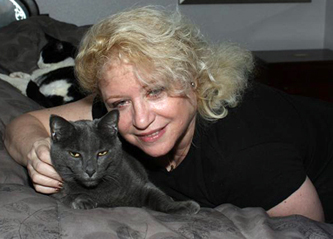 Gini Koch lives in Hell's Orientation Area (aka Phoenix, AZ), works her butt off (sadly, not literally) by day, and writes by night with the rest of the beautiful people. She writes the fast, fresh and funny Alien/Katherine "Kitty" Katt series for DAW Books and the Martian Alliance Chronicles series for Musa Publishing. She also writes under a variety of pen names (including G.J. Koch, Anita Ensal, Jemma Chase, A.E. Stanton, and J.C. Koch), listens to rock music 24/7, and is a proud comics geek-girl willing to discuss at any time why Wolverine is the best superhero ever (even if Deadpool does get all the best lines). She speaks frequently on what it takes to become a successful author and other aspects of writing and the publishing business. She can be reached through her website.