Our guest today is the talented Theresa Meyers, author of the steampunk series the Legend Chronicles and other delightful reads. She's here to share a story of a real-life prank from her childhood.
Don't forget to stick around for the giveaway -- we have a copy of THE SLAYER for one lucky reader!
---------------------------------
The Prank That Changed My World
There are times when pranks are silly. Time when pranks are fun. But sometimes, not often, a prank changes your entire world.
That happened to me.
My mother was a fanciful and artistic sort. She always used to read aloud to us as children. One night, when I was six or seven, she read the shoemaker and the elves to us. I listened intently as they talked about all the work that needed to be done, and how they diligently helped the shoemaker, who rewarded them with little shoes and clothes of their own once he discovered them. I was utterly fascinated.
My mother closed the cover of the book and as she put it away on my bookshelf, looked around my room. "You know you'll have to clean your room tomorrow."
I nodded solemnly. If there was one thing I truly detested doing, it was cleaning my room.
Suddenly her brows went up and she put her finger to her lips making the universal "shh" motion then pointed at my window as she crept back on tiptoe toward my bed. "Do you hear that?"
I sat up and strained to hear. Little tiny voices were giggling and talking right outside my bedroom window! "It sounds like elves!" she whispered. And she was so excited that I got excited.
The little elves were chattering about the story and how fun it was to help people. "Do you think they'll clean my room tonight?" I asked my mother.
"They might."
"Where did they come from?"
"Maybe they live out in the big tree stump in the back yard. Elves like tree stumps. We'd better turn out your lights and get you to sleep before they go away."
I snuggled down into my bed and she shut out the light. I think I may have squinted between my eyelids, hoping to get a glance at them before I drifted off but never saw anything.
The next morning I woke to a perfectly clean room. Everything was spotless. It had worked! We had room-cleaning elves! I ran to tell my mother and she was so thrilled. "Well you know, now we have to make them something as a thank you, just like the cobbler did."
We spent the afternoon making cookies and hand-sewing little clothes and looking for a thimble from the sewing box that we could put cream into for the elves. I set it all out on the big stump in the backyard and the next day it was all gone.
For years I thought those elves were real. It wasn't until I was in my 20's that I discovered my mother had hid a tape recorder beneath my bedroom window and recorded her own falsetto voice after a big long stretch of silence on the tape so it would strategically start playing after she'd read me the story.
That one prank turned me into a believer of the unknown, of realizing that paranormal, is really just a different level of awareness in many cases. So can a prank change your world? Absolutely.
---------------------------------
Here's the scoop on THE SLAYER, Theresa's brand new release:
Brothers Winchester, Remington, and Colt know the legends—they were trained from childhood to destroy demon predators, wielding the latest steam-powered gadgetry. It's a devil of a job. But sometimes your fate chooses you...

Chasing Trouble

Winn Jackson isn't interested in hunting nightmares across the Wild West—even if it's the family business. Unlike his rakehell brothers, Winn believes in rules. As sheriff of Bodie, California, he only shoots actual law breakers. That's what he's doing when he rescues the Contessa Drossenburg, Alexandra Porter, a lady with all the elegance of the Old World—grace, beauty and class. And then he sees her fangs.

Alexandra isn't just some bloodsucking damsel in distress, though. She's on a mission to save her people—and she's dead certain that Winn's family legacy is the only way. Luckily, aside from grace and class, she also has a stubborn streak a mile wide. So like it or not, Winn is going to come back with her to the mountains of Transylvania, and while he's at it, change his opinions about vampires, demon-hunting, and who exactly deserves shooting. And if she has her way, he's going to do his darnedest to save the world. . .

Pre-order: Amazon | Book Depository
Click on the cover to learn more about the first book, THE HUNTER: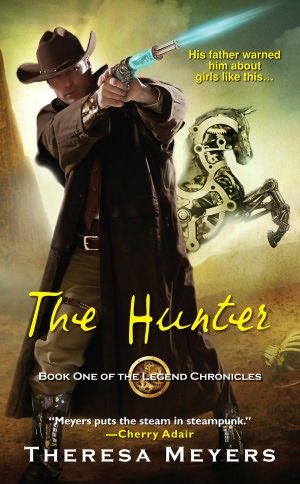 ---------------------------------
Kensington is graciously offering one (1) copy of THE SLAYER to a lucky reader!
To enter the giveaway, fill out the Rafflecopter form below.
US only
Ends Sunday, April 15, 2012
(like all of our Paranormal April Fools' giveaways)
a Rafflecopter giveaway
---------------------------------
Theresa Meyers is the author of The Legend Chronicles, a wild west steampunk trilogy that debuted to great reviews with THE HUNTER. Publishers Weekly praised it in a starred review, saying "Meyers's steampunk western packs a sizzling demonic romance into a fast-paced quest through tiny frontier towns…a well-crafted, eminently enjoyable story that will leave readers wanting more time with the Jackson brothers." THE SLAYER, Book II in The Legend Chronicles, comes out in April 2012.