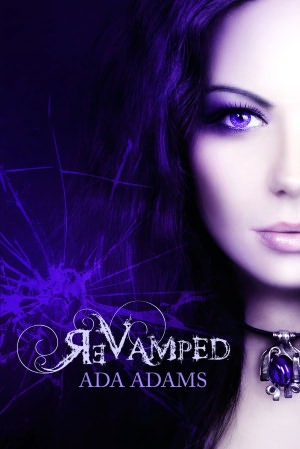 ReVamped by Ada Adams
Book Stats:
Reading level: Young adult
Genre: Urban fantasy
e-book: 300 pages
Publisher: BookBaby
Release date: February 20, 2012
Series: Angel Creek Chronicles #1
Source: Review copy from Bewitching Book Tours
Reviewed by: Jenn
Purchase: Amazon
A simple mission turned deadly.

Nineteen-year-old vampire Dawn has led a sheltered life within the confines of her father's presidential headquarters. Upon being sent on a mission to revamp four goofy misfits into guardians of a peaceful little town of Angel Creek, Dawn believes that all her dreams have finally come true. What starts off as a simple task, turns into something unexpected, changing Dawn's life forever and leading the action-loving, thrill-seeking vampire teen on a path of mystery, danger and intrigue.

When a human girl is kidnapped by a group of rogue vamps, Dawn discovers that there is more going on in Angel Creek than meets the eye. And it all connects to Ethan, the cute newcomer who seems too perfect to be true, Sebastian, the mysterious vampire with a turbulent past, and even Dawn herself. Dawn must not only succeed in revamping the troubled recruits, but must also prevent the vampire race from being overtaken by a malevolent villain who has a strange and obsessive fascination with her. As threat escalates, romance blooms, and ghosts from her past begin to surface, Dawn is sure of only one thing: her life will never be the same.
I was excited to read REVAMPED when I first heard about it. It's a slightly futuristic vampire novel written by someone from my hometown. I'm a big believer in supporting Canadian authors and so I thought this would be a fun opportunity to showcase some homegrown talent. Unfortunately, REVAMPED is something of a mixed bag for me. There were parts of the book that I really liked but there were also some aspects that didn't work for me.
Let's start off with the positive. I really like the world that Ada Adams has created. Vampires are out and have their own system of government. They help protect the human population and the public is generally quite enthralled, to the point that some vampires are trying to make it big as celebrities. There are only a couple rules: don't drink from unwilling humans and don't turn humans (because the vampires want to remain exclusive). Dawn, our protagonist, is special because she's the daughter of the president of the vampires and because she's was Born, not Made. There are two types of vampires in this world: the Made, who were transformed into vampires, and the Born, who are more rare and who are born as vampires. They start off as babies and grow just like humans do, and will continue to age until they give birth to another Born. From the way they're described in the book, it seems like the female Born can have a longer lifespan, since they have to birth a baby to stop aging, but I could be missing something. I think it's a neat world and it has a lot of layers that I'd like to see explored.
I also thought the general plot of REVAMPED was nice. It centres around Dawn's first mission outside of the vampire headquarters where she was born and raised to be a warrior. She's quite excited to have her own mission and it shows. Of course, she's not exactly thrilled when she sees the vampires she has to transform into the new guardian squad of Angel Creek but she does what she can. There are some twists and turns that keep REVAMPED from being entirely predictable, though some of the B story lines progressed as expected. I particularly liked learning more about the family histories and the unexpected ties between some of the characters in the book. As I was reading REVAMPED, I really did want to know what was going to happen next, particularly once the bad guy's motivations were explained.
On the down side, the characters in the book are pretty generic. Dawn is an adequate protagonist but she didn't really grab my attention. There's nothing inherently wrong with her as a character but she didn't jump off the page. Similarly, the people Dawn meets in Angel Creek are rather stock in most cases, though there are some people who were quite entertaining. I was particularly fond of Hannah, who's a well-meaning ditz, and I thought Sebastian and Ethan were well written. I wish that all of the characters had as much back story as these guys, particularly Sophie, one of the vampires in Angel Creek. We get hints about her past and she's by far the most interesting of the vampires that Dawn trains, though she doesn't get much page time.
One thing that did detract from the novel for me was the actual writing style. This is Ada Adams' first novel and I think it shows. REVAMPED sometimes has a juvenile feel to it, which affected my enjoyment of the novel at certain points. On the plus side, though, the author does add a lot of humour to her story, which I enjoyed.
Overall, I thought REVAMPED was a fun, fluffy YA vampire novel, suitable for readers who want a light read. I strongly encourage you to try out the excerpt below and see if you enjoy it.