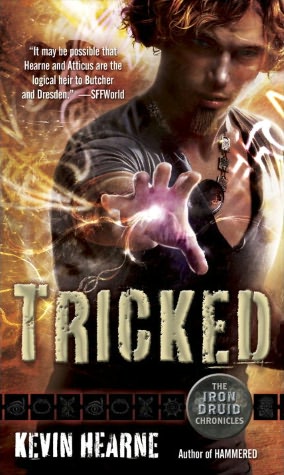 Tricked by Kevin Hearne
Book Stats:
Reading level: Adult
Genre: Urban fantasy
Mass market paperback: 368 pages
Publisher: Del Ray
Release date: April 24, 2012
Series: Iron Druid Chronicles #4
Source: Review copy from Random House
Reviewed by: Jenn
Pre-order: Amazon | Book Depository
Druid Atticus O'Sullivan hasn't stayed alive for more than two millennia without a fair bit of Celtic cunning. So when vengeful thunder gods come Norse by Southwest looking for payback, Atticus, with a little help from the Navajo trickster god Coyote, lets them think that they've chopped up his body in the Arizona desert.

But the mischievous Coyote is not above a little sleight of paw, and Atticus soon finds that he's been duped into battling bloodthirsty desert shapeshifters called skinwalkers. Just when the Druid thinks he's got a handle on all the duplicity, betrayal comes from an unlikely source. If Atticus survives this time, he vows he won't be fooled again. Famous last words.
If there's one thing I've made clear since joining Tynga's Reviews, it's probably my adoration of Kevin Hearne's Iron Druid Chronicles, and of Kevin Hearne in general. His blog cracks me up, his books take me on a ride every time I read them (and believe me when I say I have read these books multiple times), and his nerd cred is through the roof. (Did you see his "When I'm not writing" post?) Needless to say, my fangirl heart has high expectations when it comes to his books because they keep getting more and more epic. Luckily for us, Kevin has done an amazing job with TRICKED: Kevin delivers not only an thrilling adventure rooted in Native American mythology but also a story with humour, action, and lots of surprises, *and* he gives us some closure about some of the characters who he left behind. I don't think a single reader will be disappointed with TRICKED because it's jam-packed with awesomeness.
This time around, Atticus is in a new place. He, Granuaile, and Oberon have abandoned their old lives and faked Atticus' death so that he can train Granuaile in peace and not have to look over his shoulder for vengeful gods. Unfortunately, the relative peace doesn't last very long since he's made a deal with Coyote. And if there's one thing reading mythology and urban fantasy has taught me, it's that you're never going to come out the winner when you make a deal with a trickster god. As a reader, however, I was pleased as punch to see Coyote back on the scene. I think he's a great character - the drawl, the one-upmanship, the way he calls Atticus "Mr. Druid" - and he's the source of a lot of the humour, and the trouble, in TRICKED.
A lot of this trouble comes in the shape of skinwalkers. Skinwalkers have been portrayed in different ways, depending on whose lore or treatment you're reading, but they're almost universally evil. (There are, of course, exceptions, like the way that they were portrayed on Haven, but my not-empirically-tested opinion is that they're never good guys.) In TRICKED, they're evil, powerful, and smart, which is great because it means Atticus has to work to win. In fact, he's very out of his element because he hasn't had much experience with Native American magic and it was a nice change of pace to see him take on a learning role, despite his 2,000+ years of experience.
Even with all of the crazy skinwalker-related antics, Kevin manages to add in some really funny moments, usually with Coyote or Oberon. Oberon was especially ridiculous this time around, which I appreciated. Happily, Granuaile also gets some nice moments in the novel, showing us why she's a great apprentice. We also get to see Atticus and Granuaile tackle their sexual tension and come to a sensible, if not necessarily reader satisfying, conclusion.
I'm tempted to go on and on about how glorious TRICKED is but I'm worried some of my thoughts would be too close to spoilers, which wouldn't be fair. I'll leave off with this:

Bottom line: Kevin Hearne has delivered another fast-paced, character-driven, entertaining instalment of the Iron Druid Chronicles. It'll leave you breathless from laughter, a little grossed out in places, and dying for the fall, when TRAPPED comes out.