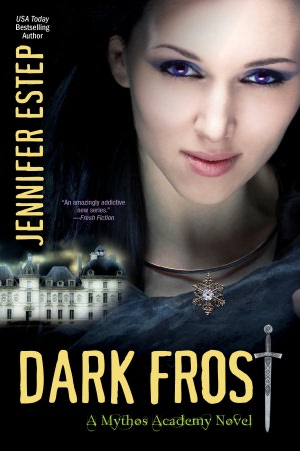 Dark Frost by Jennifer Estep
Book Stats:
Reading level: Young adult
Genre: Urban fantasy
Trade paperback: 326 pages
Publisher: K Teen
Release date: June 1, 2012
Series: Mythos Academy #3
Source: Review copy from Kensington
Reviewed by: Jenn
Purchase: Amazon | Book Depository
I've seen so many freaky things since I started attending Mythos Academy last fall. I know I'm supposed to be a fearless warrior, but most of the time, I feel like I'm just waiting for the next Bad, Bad Thing to happen. Like someone trying to kill me—again.

Everyone at Mythos Academy knows me as Gwen Frost, the Gypsy girl who uses her psychometry magic to find lost objects—and who just may be dating Logan Quinn, the hottest guy in school. But I'm also the girl the Reapers of Chaos want dead in the worst way. The Reapers are the baddest of the bad, the people who murdered my mom. So why do they have it in for me? It turns out my mom hid a powerful artifact called the Helheim Dagger before she died. Now, the Reapers will do anything to get it back. They think I know where the dagger is hidden, but this is one thing I can't use my magic to find. All I do know is that the Reapers are coming for me—and I'm in for the fight of my life.
You've probably realized by now that Jennifer Estep is an author I adore. Absolutely adore. Her writing is consistently engaging and excellent and I always have her books pre-ordered as soon as they show up online. Needless to say, I'm always excited when they show up on my doorstep and I end up reading them right away. It's not great for my school schedule but it makes me so happy. =)
In DARK FROST, Jennifer Estep delivers a fast-paced story centered around Gwen looking for the Helheim Dagger. It's a pivotal artifact in the good guys' battle against the Reapers and it's been missing since Gwen's mother was murdered. Gwen being Gwen, she's determined to find the dagger before everyone else and ends up looking for it by herself. (This is a sort of theme in the Mythos Academy novels. Gwen tends to try to go it alone, even though it usually leads to trouble. Thankfully, she's starting to learn her lesson on this front.) Jennifer Estep leaves some clues in DARK FROST that told me where the dagger was before Gwen found it but that didn't detract from my enjoyment of this plot line.
What I really liked about DARK FROST is that we get more bad guy time. The book opens in this really unexpected way and it really sets the tone for the novel. Plus, we finally get to meet Loki's champion and his/her identity is another mystery for Gwent to solve. (I don't want to give anything away so I'm not going to talk too much about this.) It's a real treat to see what's going on from the Reapers' perspective, though, and I think it adds a lot to the book and the series.
We also get to see some interesting developments for the secondary characters in the book, particularly Daphne. She comes into her powers in DARK FROST and spends a significant amount of time learning about them. Daphne's always been a really fun character, especially with regard to Carson, but now she's got a more serious storyline and I thoroughly enjoyed it. And she's not the only one who has some interesting developments: we get to learn more about Gwen's family and powers, too. It's juicy stuff, people!
On the romantic front, Gwen and Logan finally abandon the will-they-won't-they stage of their relationship. I'm not going to say which way it goes but I will say it's not a smooth ride. It's great fun for the readers but it's torturous for our heroine. Jennifer Estep's done a marvellous job with their relationship. Logan's such an alpha male but he's got secrets and we finally get let in on some of them in DARK FROST.
As you may have guessed from all of the above, DARK FROST is jam packed with goodness. There's something for everyone -- action, romance, Big Events, and more! If you haven't tried the Mythos Academy series, now's the time because it keeps getting better and better.