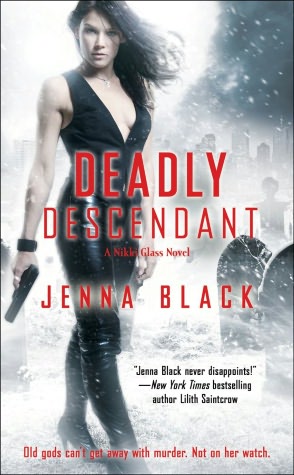 Deadly Descendant by Jenna Black
Book Stats:
Reading level: Adult
Genre: Urban fantasy
Mass market paperback: 368 pages
Publisher: Pocket
Release date: April 24, 2012
Series: Nikki Glass #2
Source: Review copy from Simon & Schuster
Reviewed by: Jenn
Purchase: Amazon | Book Depository
An ancient evil is unleashed in the modern world— unless one fearless P.I. can hunt it down... Nikki Glass, Immortal Huntress, returns in this new novel in the acclaimed series by Jenna Black.

As a living descendant of Artemis the Huntress, private investigator Nikki Glass knows how to track someone down. But when an Oracle shows up, warning the descendants about wild dog attacks in Washington D.C., Nikki is afraid it might be a trap. The Olympians believe the "dogs" are jackals, controlled by a blood-crazed descendant of the Egyptian death-god Anubis. Whatever... If Nikki hopes to muzzle Dogboy, she's got to catch him in the act. But when she stakes out a local cemetery, she ends up face-to-snout with a snarling pack of shadow-jackals whose bite is worse than their bark. These hellhounds are deadly—even for an immortal like Nikki. "Dog" spelled backwards may be "god," but that won't stop Nikki from teaching these old gods some new tricks. Like playing dead.
I was pretty quick to pick up DARK DESCENDANT, the first Nikki Glass novel, when it came out last year even though Jenna Black has been hit or miss for me in the past. I thought the world she created sounded like a lot of fun and for the most part, it was. I was quite excited to see DEADLY DESCENDANT when it arrived in the mail a little while ago because I wanted to know what was going to happen to Nikki next.
In this amazing world, there are people descended from gods from all of the pantheons around the world, each blessed (or cursed) with near-immortality and gifts based on their ancestor. And just like regular people, some are good and some are bad. The bad ones are the Olympians. They believe that only descendants of Greek gods matter and they're all about domination. The good ones are the Liberi. They're woefully outnumbered but they're more accepting and sort of left alone by the Olympians thanks to a deal between the two leaders, Constantin (Team Olympian) and Anderson (Team Liberi). Nikki was a very reluctant Liberi in DARK DESCENDANT but she's much more accepting of her place on the team and her new life in DEADLY DESCENDANT. Of course, the Olympians still want her since she's a descendant of Artemis, goddess of the hunt, which makes her a rare commodity, so Nikki's life is still constrained by forces outside of her control.
I thoroughly enjoyed the main mystery of DEADLY DESCENDANT: dealing with the "wild dog" attacks that are actually controlled by a descendant of Anubis. It unfolds in a very interesting way and it brings a lot of the characters' morals into question. Different characters -- Anderson and Nikki, in particular -- have different ideas about how this descendant should be dealt with and it's interesting to see folks butting heads over appropriate punishment for immortals.
There are also some excellent developments in Nikki's relationships with the rest of the Liberi. The sexual tension between Nikki and Jamaal is incredible and I loved watching Nikki try to find her footing with Anderson after learning his secret in DARK DESCENDANT. There are also some nice moments between Blake and Nikki, and Nikki and her sister Steph. The most challenging person in the Liberi mansion, though, has to be Emma. She's so angry and more than a little crazy and she's taking many of her frustrations out on Nikki.
DEADLY DESCENDANT builds on the world established in DARK DESCENDANT and creates something even more satisfying and thrilling. This book is packed with action, adventure, mystery, and character growth, and I can't wait to see where Jenna Black takes us next time. This series is a strong entry into the urban fantasy genre and I'd recommend it to anyone who loves stories rooted in mythology or kick-butt heroines!