I am super stoked about today's post because we're participating in the First Annual Chicagoland Vampires Spring Fling! I've been in love with Merit and the world of the Chicagoland Vampires since I picked up SOME GIRLS BITE and the series has gotten bigger and better with each installment. The sixth book in the series, BITING COLD, comes out in fewer than 80 days and Chloe Neill has set up this lovely one-week tour as part of the celebration! (Plus, May is Chloe's favourite month.)
About the Chicagoland Vampires Novels: Turned into a vampire against her will, twenty-eight-year-old Merit, the heroine of Chloe Neill's New York Times bestselling series, found her way into the dark circle of Chicago's vampire underground, where she learned there was more to supernaturals than met the eye—and more supernaturals than the public ever imagined. The sixth book in the series, BITING COLD, will be released on August 7, 2012.

Why I Love these Books: Merit's an amazing protagonist who jumps off the page and she's surrounded by a cast of equally compelling characters. (I adore all of the Cagodan vampires we spend time with but I have particularly soft spots for Lindsay and Malik.) Plus, the overall story arc of the series gets bigger with each book and watching Merit and the other Cadogan vampires rise to the occasion makes for an absorbing and fast-paced read. There's also a lot of humour in the books, even with all the heavy moments, and I love a book that brings the funny. And, of course, there's Jonah. Love him. I'm sure most people are on Team Ethan but I think Jonah's the bee's knees. My favourite book so far: HARD BITTEN. Here's why.

Did you Know?: Merit, the heroine of the Chicagoland Vampires novels, is obsessed with chocolate? She kept an entire kitchen drawer stuffed with chocolate delights, including chocolate-covered pecans and giant, gold-wrapped bars of Lindt chocolate that remind her of the chocolate bars in Charlie & The Chocolate Factory?
The Spring Fling is your chance to get familiar with the Chicagoland Vampires novels and get excited for BITING COLD so I hope you'll visit each and every blog on the tour. There are fun facts and amazing giveaways on each blog and I'd strongly encourage to visit each one.
May 21
Mystifying Paranormal Reviews
Tynga's Reviews
May 22
A Book Obsession
Goldilox & the Three Weres
May 23
Literary Escapism
Under The Covers
May 24
Nina Reads
Wholly Books
May 25
Looksie Lovitz
Starry Night Book Reviews
---------------------------------
So what's up for grabs here at Tynga's Reviews?
An amazing prize pack for one lucky reader (I wish I could enter this giveaway!):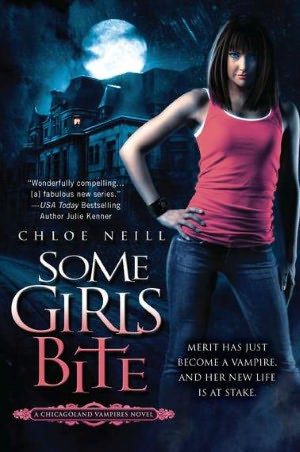 * one (1) signed copy of SOME GIRLS BITE (to get you hooked) *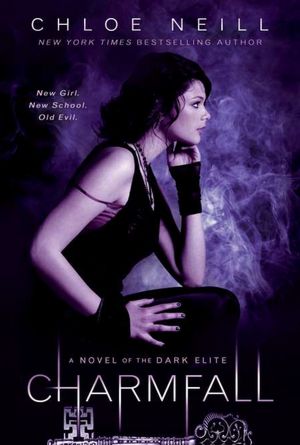 * one (1) signed copy of CHARMFALL (the third Dark Elite novel) *
* DRINK DEEP/CHARMFALL bookmarks *
and
* various CV swag, including "I survived Hard Bitten" buttons, quote postcards, CV stickers, and signed Cadogan House bookplates *
---------------------------------
Here's the scoop on SOME GIRLS BITE:

They killed me. They healed me. They changed me.

Sure, the life of a graduate student wasn't exactly glamorous, but it was mine. I was doing fine until Chicago's vampires announced their existence to the world-and then a rogue vampire attacked me. But he only got a sip before he was scared away by another bloodsucker… and this one decided the best way to save my life was to make me the walking undead.

Turns out my savior was the master vampire of Cadogan House. Now I've traded sweating over my thesis for learning to fit in at a Hyde Park mansion full of vamps loyal to Ethan "Lord o' the Manor" Sullivan. Of course, as a tall, green-eyed, four hundred year old vampire, he has centuries' worth of charm, but unfortunately he expects my gratitude-and servitude. Right…

But my burgeoning powers (all of a sudden, I'm surprisingly handy with some serious weaponry), an inconvenient sunlight allergy, and Ethan's attitude are the least of my concerns. Someone's still out to get me. Is it the rogue vampire who bit me? A vamp from a rival House? An angry mob bearing torches?

My initiation into Chicago's nightlife may be the first skirmish in a war-and there will be blood…

Purchase: Amazon | Book Depository
And here's the rest of the series. You can click on HARD BITTEN and DRINK DEEP for my thoughts on these books.
---------------------------------
Chloe has generously provided the prize pack described above to a lucky reader!
To enter the giveaway, obey the Rafflecopter!
US/Canada only
Ends Sunday, June 3, 2012
a Rafflecopter giveaway