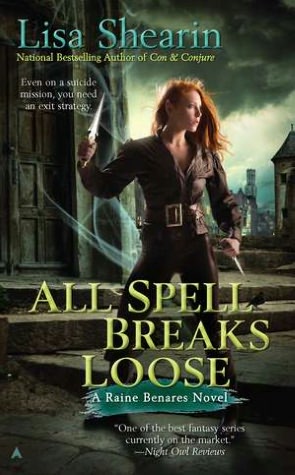 All Spell Breaks Loose by Lisa Shearin
Book Stats:
Reading level: Adult
Genre: Fantasy
Mass market paperback: 204 pages
Publisher: Ace
Release date: May 29, 2012
Series: Raine Benares #6
Source: Review copy from Penguin
Reviewed by: Jenn
Purchase: Amazon | Book Depository
From national bestselling author Lisa Shearin comes a new chapter in "one of the best fantasy series currently on the market." (Night Owl Reviews)

My name is Raine Benares—and it sucks to be me right now.

I'm a seeker who found the Saghred, a soul-stealing stone that gave me unlimited powers I never wanted. Now I've lost the rock—and the magic it gave me—to a goblin dark mage whose main goals are my death and world domination. This is more than incentive enough for a little trip to the goblin capital of Regor with a small band of good friends, not-so-good friends, and one outright enemy. Don't ask.

All we need to do is destroy the Saghred, kill the mage, and put a renegade goblin prince on the throne. Did I mention I'll be doing that with no magic?
I first mentioned my love of Lisa Shearin and the Raine Benares books back in February when I dared you to read MAGIC LOST, TROUBLE FOUND, the first instalment in the series. This time around, I'm talking about ALL SPELL BREAKS LOOSE, the sixth and final book in the Saghred storyline. It's a bittersweet book for me because I adore the world that Lisa Shearin has created and don't want say goodbye to these characters (even temporarily!) but, at the same time, it's exciting to finally reach the climax of the Saghred story and to have all of the promise and buildup of previous novels fulfilled. And fulfilled they most definitely are! I read ALL SPELL BREAKS LOOSE in a single night because I was hooked from page one and couldn't bear to put it down, despite needing to wake up *very* early the next morning. And I've read it again since then because it's just so delicious.
The Raine Benares series has always had a lot of action and Lisa Shearin really puts the proverbial pedal to the metal in ALL SPELL BREAKS LOOSE. From the first chapter, you're steeped in action as Raine and company embark on their mission. There are some quiet moments in the book but it's essentially all action and adventure (with some sneaking!), which is fitting given that they are on a quest to destroy a soul-stealing rock with a mind of its own and a crazy goblin demi-god for a buddy. On Raine's side? Some elves, some goblins, a dagger capable of cracking the Saghred open, and a lot of desperate hope. Raine and her team are definitely getting the short stick in this situation but it doesn't stop them from heading to Regor to try to defeat the Saghred and Sarad Nukpana. Lisa Shearin puts her characters in a lot of danger and the tension and stakes are the highest they've ever been, which makes for a satisfying and compelling story.
Many of my favourite characters are featured in ALL SPELL BREAKS LOOSE and each of them has at least one outstanding moment. I won't describe the scenes for you since it would be very spoilerific but I can assure you that Tam, Mychael, Piaris, Talon, Valerius, and Raine all have scenes where you'll cheer with joy and excitement. There were even a couple moments that elicited excited flailing from me because they were more wonderful and apt than I'd dared to hope for. We're also introduced to an amazing new character -- Kesyn Badru, Tam's first magic teacher. He's one of those endearingly crotchety characters and he adds a lot to the story, both in terms of the main plot and our understanding of Tam, which I loved because I am such a Tam fan. There's also plenty of humour because, well, what's a Raine Benares book without some laugh-out-loud lines? My boyfriend always knows when I'm reading one of these books because I snicker a lot and then read him choice passages when he asks what I'm doing. I was going to share a couple with you but my favourites are later in the book and I really want you to enjoy the book without waiting for a particular line to pop up. I'm confident that you'll know what I'm talking abou when you get there. =)
ALL SPELL BREAKS LOOSE is a fitting climax to the Saghred storyline and I loved every moment of it. The books are basically six acts in a single story so now's the time to start reading if you haven't already. If you like stories with the perfect blend of action, humour, world building, and character development, you'll love this book and series.