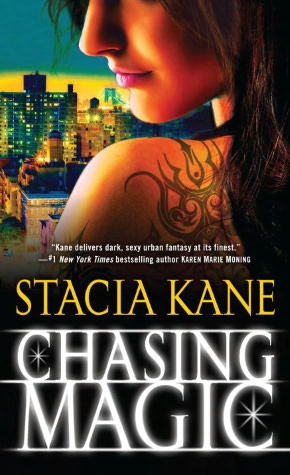 Chasing Magic by Stacia Kane
Book stats:
Reading level: Adult
Genre: Urban Fantasy
Mass Market Paperback: 416 pages
Publisher: Del Rey
Release date: June 26th 2012
Series: Downside Ghosts #5
Source: Netgalley
Reviewed by: Christine
Purchase: Amazon | Book Depository
A DEADLY HIGH

Magic-wielding Churchwitch and secret addict Chess Putnam knows better than anyone just how high a price people are willing to pay for a chemical rush. But when someone with money to burn and a penchant for black magic starts tampering with Downside's drug supply, Chess realizes that the unlucky customers are paying with their souls—and taking the innocent with them, as the magic-infused speed compels them to kill in the most gruesome ways possible.

As if the streets weren't scary enough, the looming war between the two men in her life explodes, taking even more casualties and putting Chess squarely in the middle. Downside could become a literal ghost town if Chess doesn't find a way to stop both the war and the dark wave of death-magic, and the only way to do that is to use both her addiction and her power to enter the spell and chase the magic all the way back to its malevolent source. Too bad that doing so will probably kill Chess—if the war doesn't first destroy the man who's become her reason for living.
I swear this book almost gave me a heart attack. There is only a handful of books that absorb me that completely and make me feel so many emotions like Stacia Kane's Downside series.
Because Chess and Terrible are finally together, I dreaded reading this book, always fearing Stacia Kane will rip them apart. In the last book, Sacrificial Magic, she upped the ante by making Lex the leader of Bump's rival gang. Putting him and Terrible directly against each other and Chess smack in the middle creates so much tension I sometimes found it hard to breath. The underlying danger of Lex's threat to kill Terrible kept me on the edge of my seat the whole book. I have never been more worried about a fictional character than I was worried for Terrible's safety in Chasing Magic.
Even though Stacia Kane shows Terrible's worst side in this book, there are even more scenes where he's absolutely swoon worthy. I always how much he must love Chess.
There were several scenes in the book where I really really wanted to strangle Chess. She is flawed and her self-respect couldn't be any lower, but by now, even she must have realized that Terrible is in love with her, period. Yet, she maneuvers herself into situations and does things she can't have thought through. It's a good thing I read this book while I stayed with my family. If I had been alone while reading this, I would have screamed in frustration at her.
The relationship between her and Terrible grows stronger with each book. One of my favorite scenes was when Chess took Terrible to elder Griffin's wedding. I was nice to see that Chess doesn't mind at all being seen with Terrible outside of Downside. This scene also makes me hope for something to happen between Chess and Terrible. Despite the seeming hopelessness of their relationship, there's a subtle hint at a positive future for them. Of course, I might die of joy if what I suspect does actually happen. But well. The end of the book opens yet again a new chapter in the life of Chess and Terrible and I can't wait to see how that turns out. To say it's a huge step for Chess puts it mildly.
While I have never been much of a fan of Lex, I definitely hate him now. He claims to like Chess, but most of the time, his actions speak otherwise. I don't know why Chess even bothers with him anymore. But all that being said, his new role and his character are fantastic for the plot and the overall story arc, as his presence creates enough conflict for several more books (I hope).
The story of Chasing Magic is very much about consequences. The consequences of Chess's previous actions come to bite her in the ass. Not only the mistakes she made with Lex (I refuse to see it as anything else =) ), but also the death of Slowbag and other doings of Chess's cause a lot of trouble in this book. While the Downside series is very dark from the beginning, this book was especially grim and horrid. There's no church case in this book, instead all of Downside is plagued with an especially gruesome form of magic. The race of Chess and Terrible to uncover who is behind all that magic is a thrill ride for us readers that will make you regret every minute you're forced to put down your book.
There is one thing that didn't sit very well with me in this book though. I can't really discuss it and not spoil it for you. All I can say is that for me it stands for a very unhealthy turn in a relationship. Of course you can argue that it is fitting for the respective characters but, still, that's not something I approve of. (If you want to know what that's about or want to discuss it, I'd be happy to!) However, this bit could not spoil my overall enjoyment of this book.
It is not a big secret that I might be the biggest fan of this series. This gem of urban fantasy hides its raw beauty under a huge layer of blood and violence. I wish I had the right words to praise it the way it deserves, but everything that comes to mind doesn't seem adequate. Chasing Magic pulls you in with the very first chapter, puts you through a whole spectrum of emotions and spits you out wanting even more. The characters, the world, the writing - all is highly addictive awesomeness.