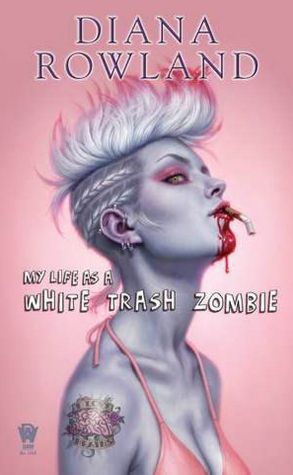 My Life as a White Trash Zombie by Diana Rowland
Book Stats:
Reading level: Adult
Genre: Zombie
Mass market paperback: 320 pages
Publisher: DAW
Release date: July 5, 2011
Series: White Trash Zombie #1
Source: Personal shelf
Reviewed by: Jenn
Purchase: Amazon | Book Depository
Angel Crawford is a loser.

Living with her alcoholic deadbeat dad in the swamps of southern Louisiana, she's a high school dropout with a pill habit and a criminal record who's been fired from more crap jobs than she can count. Now on probation for a felony, it seems that Angel will never pull herself out of the downward spiral her life has taken.

That is, until the day she wakes up in the ER after overdosing on painkillers. Angel remembers being in an horrible car crash, but she doesn't have a mark on her. To add to the weirdness, she receives an anonymous letter telling her there's a job waiting for her at the parish morgue--and that it's an offer she doesn't dare refuse.

Before she knows it she's dealing with a huge crush on a certain hunky deputy and a brand new addiction: an overpowering craving for brains. Plus, her morgue is filling up with the victims of a serial killer who decapitates his prey--just when she's hungriest!

Angel's going to have to grow up fast if she wants to keep this job and stay in one piece. Because if she doesn't, she's dead meat.

Literally.
I'm a big fan of Diana Rowland's work -- her Kara Gillian series is absolutely amazing. But the whole idea of a white trash zombie was so out of left field that it took me a while to pick up a copy of MY LIFE AS A WHITE TRASH ZOMBIE. Having read it, though, I'm so glad I did, because it's a fresh take on the zombie oeuvre that filled with brains, murder, and self-discovery.
Angel Crawford is the epitome of white trash. She has a loser boyfriend, a drug problem, no job, no diploma, and an alcoholic dad, and she lives in a filthy trailer with a beer can-strewn driveway. But then she has an accident and wakes up in the hospital as a zombie, though she doesn't know it at the time, and a whole new life begins, thanks to a mysterious benefactor. All of a sudden, Angel has a job at the morgue as a body and an inexplicable craving for brains, the start of her new leaf. Over the course of MY LIFE AS A WHITE TRASH ZOMBIE, Angel tries to figure out what she wants to do with her undead existence: does she want to go back to her junkie ways or make something of herself? Diana Rowland has done a wonderful job of writing Angel's character arc and you'll find yourself really rooting for Angel as the story progresses.
Angel also spends some time investigating bodies that have been turning up without their heads, partially because of her job and partially because she's a zombie and zombies love brains. No head means no brains and it raises a lot of questions for Angel. In fact, questions are kind of theme in MY LIFE AS A WHITE TRASH ZOMBIE because Angel wants information about who made her a zombie, how zombies live, who's killing all these people, and what she should do with her life. Questions and mystery abound, which make it so difficult to put the book down.
I was pleasantly surprised by just how much I enjoyed MY LIFE AS A WHITE TRASH ZOMBIE. I had expectations since I love the author's other work but I found Angel and her world to be completely captivating. Diana Rowland has created some fantastic world mythology and I look forward to seeing where she takes Angel and her friends next, now that Angel has a better grounding in how to be a zombie. Thankfully, the second book, EVEN WHITE TRASH ZOMBIES GET THE BLUES, is due out in a couple months so I won't have too long to wait!
Before I sign off, I just want to say how much I LOVE this cover. Dan Dos Santos has perfectly captured Angel's attitude and I love the little details, like the "I love brains" tattoo and the title font. This is one book you can definitely judge by its cover!