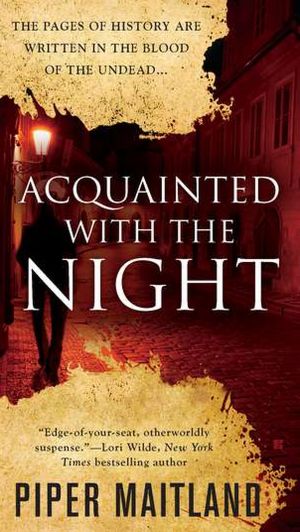 Acquainted with the Night by Piper Maitland
Book Stats:
Reading level: Adult
Genre: Thriller
Trade paperback: 544 pages
Publisher: Berkley
Release date: November 29, 2011
Series: Night #1
Source: Personal shelf
Reviewed by: Jenn
Purchase: Amazon | Book Depository
The pages of history are written in the blood of the undead…
A woman's quest for the truth…
A medieval icon that holds the clues…
An ancient book with the power to shake Christianity—and humanity itself…

Caroline Clifford's bland life as a London tour guide flips upside down when her beloved uncle is brutally murdered at a Bulgarian archeological site. While traveling to recover his remains, she meets a man who corresponded with her uncle. Jude Barrett is a biochemist on a mission—to eradicate the world of vampires…

At first, Caro is dismissive of Jude's beliefs, but she can't ignore the signs around her—the human bites on her uncle, the strange men following her, the anguished cries after sundown. Strange anagrams on her uncle's passport lead her and Jude to a cliff-top monastery in Greece, where a shattering revelation connects a relic Caro inherited from her parents to an age-old text on immortality—and an enigmatic prophecy that pits the forces of darkness and light in a showdown that could destroy them all…
Let me start off by saying that this book is a bit different from the vampire books we usually talk about because this one reads more like a Dan Brown novel. Although vampires feature heavily in it, this isn't what I'd call urban fantasy (though it does have many of the required elements) simply because it really doesn't read that way in terms of tone and focus. It really does feel like THE DA VINCI CODE but with an angry Cockney vampire instead of a self-flagellating albino. If that sounds good to you, you'll probably like ACQUAINTED WITH THE NIGHT. If it doesn't, you'd best avoid this book. That being said, I did enjoy reading ACQUAINTED WITH THE NIGHT, though not as much as I had hoped.
The first thing you need to know is that ACQUAINTED WITH THE NIGHT is written from multiple third-person POVs. It jumps around a lot, which can take some getting used to, but the bulk of the story is told from Caro's perspective. Caro's an interesting protagonist. She's utterly clueless about vampires when the book begins and she's forced to come to terms with a lot of information about her family and her world. Some of it was rather predictable but there were also some surprises, which was nice.
One of the people that Caro encounters is Jude Barrett, a Yorkshire scientist with a penchant for calling Caro "lass." He was drawn into the vampire world quite by accident but now he's Caro's touchstone, offering her guidance with a side of sex. Their romantic storyline is central to the plot but it manages to feel like an aside a lot of the time, which was a little confusing. I think this goes back to the style in which the book is written more than anything else. I'm a big fan of thrillers but there was something just a little off for me with ACQUAINTED WITH THE NIGHT, even though the components were all in place. I suspect it was the fact that I kept thinking "DA VINCI CODE with vampires" every few chapters, which made it hard to stay wrapped up in the narrative.
One thing that stood out about ACQUAINTED WITH THE NIGHT is the way vampirism is explained. Jude's research provides a very scientific origin involving stem cells and a resurrection gene. (You can read more about it on Piper Maitland's website.) I thought it was clever, particularly since we're also presented with other perspectives on vampire history from other characters.
On the whole, ACQUAINTED WITH THE NIGHT is a well-plotted thriller. I'd recommend it to folks who are fans of Dan Brown's ANGELS & DEMONS or THE DA VINCI CODE, or, more generally, people who enjoy thrillers with religious themes, but I don't know that this would appeal to every urban fantasy reader. Clocking in at 554 pages, it's a commitment but the chapters fly by fairly quickly once you're settled into the style and story of the novel.