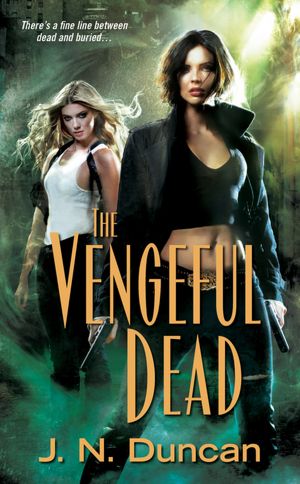 The Vengeful Dead by J. N. Duncan
Book Stats:
Reading level: Adult
Genre: Urban fantasy
Trade paperback: 352 pages
Publisher: Kensington
Release date: October 1, 2011
Series: Deadworld #2
Source: Review copy from Kensington
Reviewed by: Jenn
Purchase: Amazon | Book Depository
She's the FBI's go-to expert on Chicago's most brutal supernatural crimes. But a bloodthirsty, revenge-crazed killer is using her deepest fears as a terrifying weapon…

Jackie Rutledge just can't put her past to rest. Her Bureau partner is dead, but not gone. And her sanity is becoming as fragile as her career. Worst of all, a wrenching journey into Deadworld has given her unwanted new abilities—and exhuming memories she hoped to keep buried …

Now a merciless force capable of possessing humans is on a killing spree, destroying the guilty and innocent alike. It isn't long before Jackie is a prime suspect, struggling to stay two steps ahead of her savvy new partner, and her undead P.I. and paramour, Nick. But to clear her name, she'll have to take on her greatest challenge yet: confronting an inner darkness as inescapable as the one she hunts—and capable of annihilating more than her soul…
I have to confess: I had a very lukewarm reaction to DEADWORLD, the first book in the series. I loved the world building and the main plot line but I really didn't like Jackie, the main character. And it's hard to love a book when you have negative feelings towards the protagonist. (In case you didn't click on the link, my problem with Jackie was basically that she was way too self-destructive and I found it difficult to relate to her.)
My reaction to THE VENGEFUL DEAD? Much more positive! In fact, I thoroughly enjoyed this instalment in the Deadworld series. J. N. Duncan's kept all of the elements I enjoyed from the first novel and we get to see Jackie grow as a character. As the author pointed out in the comments on my post on DEADWORLD, the novel does take place over a short time period, making it difficult to see a lot of growth or change. This time, though, the book is a little more spaced out in terms of the time frame and it means we get to see Jackie working on herself and her issues and taking steps in the right direction. Yay!
I also appreciated how much deeper we go into Deadworld this time around, since the main focus of THE VENGEFUL DEAD is just what you'd expect from the title: a ghost on a mission to kill the people who murdered her and her unborn baby. This ghost is incredibly powerful and trying to stop her forces Jackie to use her new powers (the result of her trip to Deadworld in the first novel) even though she'd much rather hide. It was really neat to see Nick and Shelby take on a mentoring role with Jackie and her powers because it added an extra layer to her relationships wth both characters.
And speaking of relationships, it's nice to see Jackie and Nick making some progress, or at least thinking about making progress with their romance. The nature of their relationship isn't central to THE VENGEFUL DEAD but it is a nice barometer for where Jackie is in terms of her headspace and her attitudes to the world around her.
All in all, I was really impressed with THE VENGEFUL DEAD. I may have been on the fence with DEADWORLD but J. N. Duncan's won me over with this story and now I can't wait to start reading THE LINGERING DEAD!