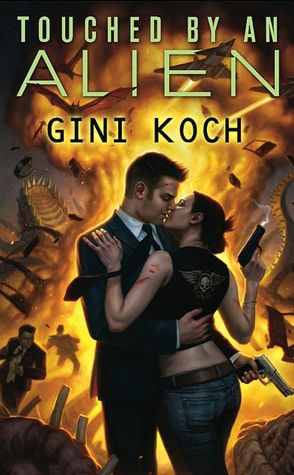 Touched by an Alien by Gini Koch
Book Stats:
Reading level: Adult
Genre: Sci-fi romance
Mass market paperback: 400 pages
Publisher: DAW
Release date: April 20, 2010
Series: Alien #1
Source: Personal shelf
Reviewed by: Jenn
Purchase: Amazon | Book Depository
How can a sexy marketing manager join forces with an Alpha Centauri male in Armani to save the planet-using hairspray, a Mont Blanc pen, and rock n' roll?

Easy...

She's Touched by an Alien

Marketing manager Katherine "Kitty" Katt steps into the middle of what appears to be a domestic dispute turned ugly. And it only gets uglier when the man turns into a winged monster, straight out of a grade-Z horror movie, and goes on a killing spree. Though Kitty should probably run away, she springs into action to take the monster down.

In the middle of the chaos a handsome hunk named Jeff Martini appears, sent by the "agency" to perform crowd control. He's Kitty's kind of guy, no matter what planet he's from. And from now on, for Kitty, things are going to be sexy, dangerous, wild, and out of this world.
Gini Koch is one of those authors I've been meaning to try for a while. And after her delightful visit as part of Paranormal April Fools', I thought it was high time I got started on her Alien series. I have to admit, part of the reason I put this book off was that the title alternately made me think of the show Touched by an Angel and alien probing, which isn't the nicest combination. But I'm very glad I put that aside because TOUCHED BY AN ALIEN was a lot of fun.
The book is told from the point of view of Kitty, a regular human who finds herself in the midst of an alien showdown. She's a complete fish out of water in the face of all of these aliens with powers and I really liked how she had to rely on her smarts to get through TOUCHED BY AN ALIEN without dying. (I don't think this is a spoiler since there are four more books after this one.) She definitely proves herself time and again in the novel, so there's no doubt in my mind, or the minds of the other characters, that Kitty can handle the world that she's now a part of. Her outsider perspective makes her a key player and shows that you don't need to have superpowers to save the world.
What is this world,  you might be wondering. The basic premise is that there are two groups of aliens on Earth: the Alpha Centaurians, who are the smokin' hot Armani-clad good guys and who protect the planet from the other super-beings, who are parasitic and turn unsuspecting humans into hosts. There's something of a Men In Black vibe but Gini Koch keeps it fresh with fun dialogue and good characters. Kitty gets involved with the Alpha Centaurians after she instinctively kills one of the bad guys and so we get to learn about this hidden battle along with her. I really enjoy stories with this sort of trope because it means the information comes in digestible chunks and Gini Koch has done a wonderful job of feeding her readers information without overloading them.
And then there's Jeff Martini, the "handsome hunk" from the blurb. He's Alpha Centaurii and he and Kitty have an instant connection. There's a lot of tension and banter and it's a nice story line but I was much more interested in how Kitty was going to deal with her new situation, and less invested in the romance. This isn't to say that it was a bad plot point or poorly written – I just wanted more of the (non-sexy) action! All of the fight scenes, particularly the big battle at the end, were well choreographed and packed with action and twists and turns and I thoroughly enjoyed the ride.
I enjoyed TOUCHED BY AN ALIEN so much that I just went and downloaded the rest of the series. (I'm doing these ones as e-books.) Believe me, once you get a taste of Kitty and Jeff's world, you're going to want more!