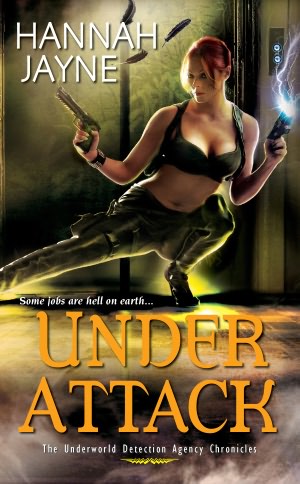 Under Attack by Hannah Jayne
Book Stats:
Reading level: Adult
Genre: Urban fantasy
Mass market paperback: 336 pages
Publisher: Kensington
Release date: November 1, 2011
Series: Underworld Detection Agency Chronicles #2
Source: Review copy from Kensington
Reviewed by: Jenn
Purchase: Amazon | Book Depository
She's one of the Underworld Detection Agency's best. But her job is really starting to bite...

Sophie Lawson is a human immune to magic, which comes in handy for helping paranormal beings transition into everyday life. But fallen angel Alex Grace and his search for the Vessel of Souls is one curse she never saw coming. Suddenly an unexplainable string of killings and destruction has even San Francisco's demons fearing for their immortal lives. And Sophie isn't about to trust Alex's all-too-vulnerable charm or his secret agenda. Now their hunt is revealing dangerous secrets about Sophie's past, and a malevolent power hellishly close to turning one irreverent human into the ultimate supernatural weapon...
Sophie Lawson is not your typical urban fantasy protagonist. She has a fondness for Pinwheels and sheath dresses, doesn't know how to fight, doesn't have powers, and is about as far from tough as you can get. When I read UNDER WRAPS, the first book in the Underworld Detection Agency Chronicles, it took me a while to get used to Sophie because the book cover depicted her as a fierce warrior when she's really more of a cutesy girly girl. Don't get me wrong, I enjoy a cute protagonist but the covers really don't match the tone of the novels for this series, which is always jarring when you're not expecting it. So be forewarned: this is one case where you really can't judge the book by its cover. Yes, Sophie has a tazer, yes, she's a redhead, and yes, there are black feathers about, but there's definitely no bra and holster look in the book.
In fact, f I had to choose one word to describe this series, I'd probably go with "fluffy." Let me be clear, this isn't a criticism. It's just quite different from the usual books I read, which tend to have a grittier, darker tone. Hannah Jayne's books have serious moments but the general tone is more playful than what you'd see in the series I tend to gravitate toward. That being said, I enjoyed UNDER ATTACK. In fact, I thought it was better than UNDER WRAPS. The plot takes us in all kinds of directions. We get to learn a lot more about Sophie and why she's immune to magic. We also get to see what happens to the UDA in the aftermath of Pete's disappearance and where Sophie fits into things. There are also some fun scene with Nina, Sophie's vampire roommate, particularly when she's at work.
The one downside for me is that the villain of UNDER ATTACK was rather one-dimensional. Ophelia has some nice sneaky moments and she does an excellent job of messing with Sophie's mind but she didn't seem as fleshed out as the other characters in the novel, maybe because she's new and I'm more familiar with the rest of the cast from UNDER WRAPS.
Fans of dark urban fantasy may find this series a little silly but UNDER ATTACK is an enjoyable read if you approach it with the right expectations. I think Sophie and the Underworld Detection Agency Chronicles will really appeal to fans of MaryJanice Davidson's Betsy books or Janet Evanovich's (non-UF) Stephanie Plum series so if you like those books, this may be the book for you!