The Demon King by Cinda Williams Chima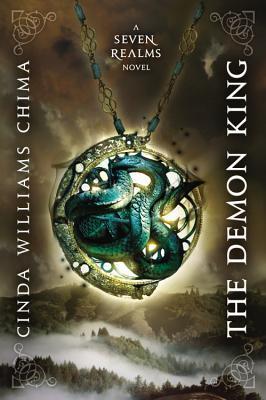 Book Stats:
Reading level: Young Adult
Genre: High Fantasy
Hardcover: 506 pages
Publisher: Hyperion Books
Release date: October 6th 2009
Series:
Seven Realms
#1
Source:
Purchased
Reviewed by:
Tynga
Times are hard in the mountain city of Fellsmarch. Reformed thief Han Alister will do almost anything to eke out a living for himself, his mother, and his sister Mari. Ironically, the only thing of value he has is something he can't sell. For as long as Han can remember, he's worn thick silver cuffs engraved with runes. They're clearly magicked—as he grows, they grow, and he's never been able to get them off. The thrilling debut in a new high fantasy trilogy, from New York Times bestselling author, Cinda Williams Chima (The Dragon Heir).
I am in love with this series like I haven't been in a long time. I say series because even though this is my review of the first book, after reading it I had to rush and read all four of this series, and than the first two of the spin-off series. I. Am. In. Love. And I will try not to confuse each book in my head as I write each reviews (the other ones will come in the coming weeks).
This high fantasy novel takes place in a world where rules have an extremely important place. A thousand years before, a wicked sorcerer tried to possess the first of the new queens, Hanalae, and when she fought back, the world was almost ripped apart by magic. The clans (think Native American) stepped in to mend the damage and set new rules to prevent it from happening again. And here we are, 30 or so generations later with a line of Queens called Gray Wolwes ruling over the QUEENDOM, yes you read right, along side Wizards who would love to have control back, The Clans, who will do everything to stop it from happening and the Valefolks (the commoner). Each of theses groups are richly portrayed, multi-dimensional, and have their own agendas.
To lead us through this amazing world we have Raisa, Princess Heir and Hans, former Street lord. The narration alternates between the two, allowing the readers to really grasp the reality of each of them. Raisa wants to be a good Queen for her people, she strives for her Queendom to be fair for everyone, for every class to get along and she is extremely stubborn. Hans on the other hand comes from nothing. He fights everyday to put food in his mother and sister's mouths after his father died in the war. He is weary of everyone and everything but he is very hard-working and will do anything to achieve his goals.
Along with those two amazing main characters are great support characters. Byrne, Raisa's childhood friend and bodyguard and Fire Dancer, Hans' best friend were absolutely great, to name only those two.
I don't want to give anything plot wise but I will say that to lore is extremely rich and Cinda Williams Chima offered an impressive historical background to her story. Sometimes fantasy novels can seem lengthy at times mostly because of travel times and what not but I never felt that way reading this novel. Every moment is colorful and gripping, everything happens for a reason and the action kept me glued to the pages.
I've read some complaints about a love triangle when I browsed reviews before, and really, those people are totally off. Yes there are two boys and a girl, but there never was an actual triangle. So if you've heard that, please don't let it keep you away from a great fantasy.
Another thing I thought I would mention, even though the characters are between 15 and 17 years old in this novel, it never felt that way. As you know, I'm a grown woman with kids and I just can't stand childish and whiny behavior from younger characters and thank the lord, it wasn't the case here. They always felt strong, determined and driven and I loved every moment.
I will conclude by urging to get your hands on this novel. It was released in 2009 so I am late to this party, I know. But the first spin-off novels were released in 2016 and April 2017 so I would strongly suggest you read the original series before you pick up the spin-off. Your experience will be that much more amazing!