The Exiled Queen by Cinda Williams Chima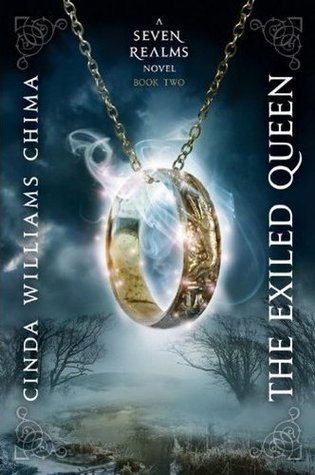 Book Stats:
Reading level: Young Adult
Genre: High Fantasy
Ebook: 586 pages
Publisher: Hyperion Books
Release date: September 24th 2010
Series:
Seven Realms
#2
Source:
Purchased
Reviewed by:
Tynga
Haunted by the loss of his mother and sister, Han Alister journeys south to begin his schooling at Mystwerk House in Oden's Ford. But leaving the Fells doesn't mean that danger isn't far behind. Han is hunted every step of the way by the Bayars, a powerful wizarding family set on reclaiming the amulet Han stole from them. And Mystwerk House has dangers of its own.
I picked up The Exiled Queen the moment I finished reading The Demon King. I HAD to know what was happening next and I was not disappointed. Both Raisa and Hans left the 'safety' of the Fells and are now deep in Arden territory at a school called Oden's Fort. Raisa attends Wein House, the military school, undercover and I swear she will blow your mind. Hans is attending Mystwerk along side Dancer to learn all things magic, and more. Speaking of magic, the point of view still alternates between the two and neither of them has any idea the other is there! This, along with many familiar and new supporting characters sets the table for another epic adventure.
I find it really hard to tell you about this book without giving anything away. The world is still as rich as it was in the first book and we built upon that lore. We learn a lot more about this history and we learn new facts that plants a seed of doubt on what we thought were facts.
Raisa learns a lot in Wein House and becomes more confidant in her physical abilities and she has a better idea of her objectives for when she will be Queen. She always wanted her Queendom to be a better place, but now she is owning tools that will allow her to do it. Staying away from home for the greater good is weighting her down though and she feels very lonely until she stumble upon Hans very late in the novel and then everything changes.
Hans Alister faces different challenges. He knows his old turf and now finds himself in enemy territory, with no bearing, and no idea what the rules are. He needs to find his way among all these blueblood wizards or he might not survive to tell the tale. He finds very unlikely allies on his quest, most of whom he doesn't trust and that's just as well. I loved following his struggles and witnessing his determination to succeed.
Romance finally enters the premises at the end on this novel and the romantic in me couldn't be happier. I was anxiously awaiting this moment and this young love was so sweet despite the dire situation the young lovers were in. It really set the table for the future to come and as you might guess, I picked up the third book as soon as I set the second one down :)
The Seven Realms series is an awesome high fantasy series and I know it's been released a few years ago, but if you haven't read it yet, you should definitely pick it up! Happy reading!